Storytime with Cate Berry
What: Join author Cate Berry for a special storytime with her picture book PENGUIN AND TINY SHRIMP DON'T DO BEDTIME!
When: Saturday, September 15, 11:00 am
Where: Blue Willow Bookshop, 14532 Memorial Drive, Houston, TX 77079
Admission: In order to go through the signing line and meet Cate Berry for book personalization, please purchase PENGUIN AND TINY SHRIMP DON'T DO BEDTIME! from Blue Willow Bookshop. At the time of your purchase, we will issue a signing line ticket that indicates your place in line. Your book and signing line ticket can be picked up at the event.
About the Author:
Cate Berry is a seventh generation Texan, splitting her time between the kitchen and the living room. She is a recent graduate of the Vermont College of Fine Arts MFA program in writing for children and young adults. She currently lives in Austin with her husband, their two children, and their kitten, Chopin. Although Penguin and Tiny Shrimp will try to convince you otherwise, Cate is an ardent fan of bedtime. PENGUIN AND TINY SHRIMP DON'T DO BEDTIME! is her debut picture book. You can visit Cate online at www.cateberry.com.
Ordering:
A limited number of autographed copies of this book will be available for purchase after the event. If you cannot attend the event and would like a personalized copy of this book, please call us before the event at (281) 497-8675, or add the book to your cart on our website and add personalization details in the order notes. Payment type must be "CreditCard." Shipping will be charged if you want the book shipped to you. If you cannot attend the event and prefer in-store pick up, please pick up your unclaimed book(s) within a month of the event date. After that date, your book will be donated to a Houston-based literacy organization.
To place an international order, please email orders@bluewillowbookshop.comto obtain shipping details and to have items shipped to you. Staff will respond within 24-48 hours.
Event date:
Saturday, September 15, 2018 - 11:00am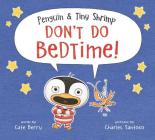 $17.99
ISBN: 9780062491534
Availability: Special Order
Published: Balzer + Bray - May 8th, 2018
Penguin and Tiny Shrimp will charm, amuse, but never put you to sleep in this meta bedtime tale in the vein of Goodnight Already.

Penguin and Tiny Shrimp DO NOT have a bedtime story to share with you.

There are no soft beds or cozy covers here. There are fireworks! And shark-infested waters!!
---