Storytime Anytime | The Bookstore Cat
What: Welcome to Storytime Anytime, our partnership with HarperCollins. Author Cylin Busby will share her book The Bookstore Cat on Blue Willow's Facebook page. This video will remain on the page until Monday, November 23.
When: Monday, November 16, 2020, 10:00am Central time
We work hard to bring events to our community for free, because connecting readers with authors is central to our mission. But these programs are not free for us to put on! If you're interested in attending this event, we hope you'll consider purchasing a copy of The Bookstore Cat from our bookshop. If you do, we'll include a bookplate signed by the authors for you to place in your book! It's our way of saying "thanks." Your support is critical to keeping us here and offering events like this, and we hope to do that for many years to come!
Blue Willow Bookshop expects all participants to maintain an atmosphere of respect and fairness. Any comments or questions that violate this standard of behavior including any form of harassment, may, at the discretion of the organizers, be immediately removed.
About the Authors:
Cylin Busby is the coauthor of the acclaimed memoir The Year We Disappeared and the author of the teen novels The Stranger Game and Blink Once and the middle grade novel The Nine Lives of Jacob Tibbs. A former editor at Teen magazine, she now lives in Los Angeles with her family. You can visit her online at www.cylinbusby.com.
Ordering:
Payment type must be "CreditCard." Shipping will be charged if you want the book shipped to you. If you'd prefer to use our curbside pickup program, we ask that you please collect your book(s) within one month of the event date. After that date, your book will be donated to a Houston-based literacy organization.
International shipping will be $35.00.
Event date:
Monday, November 16, 2020 - 10:00am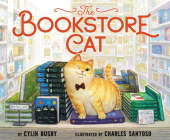 $17.99
ISBN: 9780062894342
Availability: On Our Shelves Now
Published: Balzer + Bray - October 20th, 2020
An irresistible and engaging picture book perfect for story time, and for cat and bookstore lovers alike!

The bookstore cat is an adorable . . .

bossy . . .

cuddly cat.
---