Ryan Higgins
What: Ryan Higgins will discuss his new book We Will Rock Our Classmates, the second book in his series about Penelope, the T-Rex. This event will take place on Blue Willow's Facebook Live stream.
When: Tuesday, September 15, 2020, 5:00pm
We work hard to bring events to our community for free, because connecting readers with authors is central to our mission. But these programs are not free for us to put on! If you're interested in attending this event, we hope you'll consider purchasing a copy of We Will Rock Our Classmates from our bookshop. Your support is critical to keeping us here and offering events like this, and we hope to do that for many years to come!
About the Author:
Ryan T. Higgins is the author and illustrator of the #1 New York Times best-selling We Don't Eat Our Classmates; the New York Times best-selling Mother Bruce, which received the E. B. White Read Aloud Award and the Ezra Jack Keats New Illustrator Honor; Hotel Bruce; BE QUIET!; Bruce's Big Move; and others. He lives in Maine with his wife and kids and a menagerie of pets.
Ordering:
Payment type must be "CreditCard." Shipping will be charged if you want the book shipped to you. If you'd prefer to use our curbside pickup program, we ask that you please collect your book(s) within one month of the event date. After that date, your book will be donated to a Houston-based literacy organization.
International shipping will be $35.00.
Event date:
Tuesday, September 15, 2020 - 5:00pm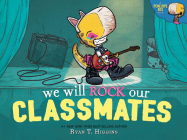 $17.99
ISBN: 9781368059596
Availability: Usually Ships in 1-5 Days
Published: Disney-Hyperion - July 21st, 2020
Readers will twist and shout for this headbanging companion to the #1 New York Times best-selling We Don't Eat Our Classmates.




---