Ryan Higgins | The Bruce Swap
What:
We ADORE Ryan Higgins and are excited to have him virtually visit us to talk about his new book The Bruce Swap.
This event is free to attend, but registration is required. You can register for the event here. Once you register, you will receive an invitation to join the event.
NOTE: Because this is a virtual event that will be hosted on Zoom, you will need access a computer or other device that is capable of accessing the internet at a sufficient bandwidth. If you have not used Zoom before, don't worry: It's easy! Here's a quick reference guide to help you get oriented: Getting Started with Zoom
When:
Tuesday, May 5, 2021 at 5:00pm Central Time
We work hard to bring events to our community for free, because connecting readers with authors is central to our mission. But these programs are not free for us to put on! If you're interested in attending this event, we hope you'll consider purchasing a signed copy of The Bruce Swap from our bookshop. Your support is critical to keeping us here and offering events like this, and we hope to do that for many years to come!
Blue Willow Bookshop expects all participants to maintain an atmosphere of respect and fairness. Any comments or questions that violate this standard of behavior including any form of harassment, may, at the discretion of the organizers, be immediately removed.
About the Author:
Ryan T. Higgins (ryanthiggins.com) is the author and illustrator of the New York Times best-selling Mother Bruce, which received the E. B. White Read-Aloud Award and the Ezra Jack Keats New Illustrator Honor. In addition to the Mother Bruce series, Higgins is also the author and illustrator of We Don't Eat Our Classmates, We Will Rock Our Classmates, BE QUIET, and What About Worms!? an Elephant & Piggie Like Reading book. He lives in Maine with his wife and kids and lots of pets.
Ordering:
Payment type must be "CreditCard." Shipping will be charged if you want the book shipped to you. If you'd prefer to use our curbside pickup program, we ask that you please collect your book(s) within one month of the event date. After that date, your book will be donated to a Houston-based literacy organization.
International shipping will be $35.00.
Event date:
Wednesday, May 5, 2021 - 5:00pm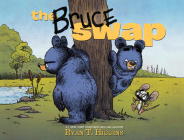 $17.99

ISBN: 9781368028561
Availability: On Our Shelves Now
Published: Disney-Hyperion - May 4th, 2021
Bruce is a bear who struggles with fun.
When Bruce says no to fun one too many times, Nibbs, Thistle, and Rupert secretly wish Bruce was more fun. And the geese secretly wish for sandwiches. The next morning, all their wishes come true. Bruce is cheerful. Bruce is adventurous. Bruce has pizzazz . . . and a basket of sandwiches.
---