Ryan T. Higgins
What: Ryan T. Higgins will discuss and sign his new picture book BRUCE'S BIG STORM.
When: Wednesday, September 4, 2019, 5:00pm
Where: Blue Willow Bookshop, 14532 Memorial Drive, Houston, TX 77079
Admission: In order to go through the signing line and meet Ryan T. Higgins for book personalization, please purchase BRUCE'S BIG STORM from Blue Willow Bookshop. At the time of your purchase, we will issue a signing line ticket that indicates your place in line. Your book and signing line ticket can be picked up at the event.
About the Author:
Ryan T. Higgins (ryanthiggins.com) is an author and illustrator who likes the outdoors and cheese sandwiches. He is NOT a grumpy old black bear, but he DOES like making books about one-starting with the New York Times best-selling Mother Bruce, which received the E. B. White Read-Aloud Award and the Ezra Jack Keats New Illustrator Honor. He also wrote and illustrated BE QUIET!, We Don't Eat Our Classmates, Santa Bruce, Bruce's Big Fun Day, and Peek-a-Bruce. Ryan lives in Maine with his wife and kids . . . and too many pets.
Ordering:
A limited number of autographed copies of this book will be available for purchase after the event. If you cannot attend the event and would like a personalized copy of this book, please call us before the event at (281) 497-8675, or add the book to your cart on our website and add personalization details in the order notes. Payment type must be "CreditCard." Shipping will be charged if you want the book shipped to you. If you cannot attend the event and prefer in-store pick up, please pick up your unclaimed book(s) within a month of the event date. After that date, your book will be donated to a Houston-based literacy organization.
To place an international order, please email orders@bluewillowbookshop.comto obtain shipping details and to have items shipped to you. Staff will respond within 24-48 hours.
Event date:
Wednesday, September 4, 2019 - 5:00pm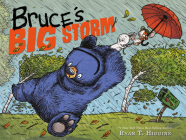 $17.99
ISBN: 9781368026222
Availability: Usually Ships in 1-5 Days
Published: Disney-Hyperion - September 3rd, 2019
Bruce's home is already a full house.
But when a big storm brings all his woodland neighbors knocking, he'll have to open his door to a crowd of animals in need of shelter-whether he likes it or not.
Readers will love this next installment of the uproarious, award-winning Mother Bruce series.
---