Meet and Greet with Nancy Tillman
What: Nancy Tillman will greet customers and sign her newest picture book, LET THERE BE LIGHT.
When: Friday, February 21, 5:00 p.m.
Where: Blue Willow Bookshop, 14532 Memorial Drive, Houston, TX 77079
Admission: In order to go through the signing line and meet Nancy Tillman for book personalization, please purchase LET THERE BE LIGHT from Blue Willow Bookshop. At the time of your purchase, we will issue a signing line ticket that indicates your place in line. Your book and signing line ticket can be picked up at the event.
About the Author:
---
Nancy Tillman is a successful greeting card designer and former advertising executive who created ON THE NIGHT YOU WERE BORN to convey to children, at an early and impressionable age, that "You are the one and only ever you." Nancy Tillman lives in Portland, Oregon, with her husband and their two children.
Book:
---
In LET THERE BE LIGHT, Nancy Tillman, the New York Times bestselling illustrator and author of ON THE NIGHT YOU WERE BORN, and Nobel Peace Prize Winner Archbishop Desmond Tutu combine their extraordinary talents to retell the story of God's glorious creation.
Ordering:
---
A limited number of autographed copies of Nancy's book will be available for purchase after the event. If you cannot attend the event, and would like a personalized copy of her book, please call us before the event at (281) 497-8675.
If you can't attend the event or need a copy shipped to you, you may call the store or add the appropriate book to your cart on our website. Payment type must be "CreditCard." In the order notes, add personalization details.
To place an international order, please email orders@bluewillowbookshop.com to obtain shipping details and to have items shipped to you. Staff will respond within 24-48 hours.
Event date:
Friday, February 21, 2014 - 5:00pm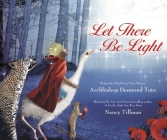 $16.99
ISBN: 9780310727859
Availability: Usually Ships in 1-5 Days
Published: Zonderkidz - January 7th, 2014
"In the very beginning, God's love bubbled over when there was nothing else--no trees, no birds, no animals, no sky, no sea--only darkness."
---