HCPL Authorama | Ricia Anne Chansky and Yarelis Marcial Acevedo
What: We are delighted to partner with the Harris County Public Library (HCPL), during their Summer Authorama, to provide books for their event with Ricia Anne Chansky and Yarelis Marcial Acevedo. They will appear to discuss their book Maxy Survives the Hurricane. This event will take place on HCPL's Facebook Live stream.
When: Tuesday, July 27, 2020, 11:00am
We work hard to support events in our community, because connecting readers with authors is central to our mission. But these programs are not free for us to put on! If you're interested in attending this event, we hope you'll consider purchasing a copy of Maxy Survives the Hurricane. Your support is critical to keeping us here and offering events like this, and we hope to do that for many years to come!
Ordering:
Payment type must be "CreditCard." Shipping will be charged if you want the book shipped to you. If you'd prefer to use our curbside pickup program, we ask that you please collect your book(s) within one month of the event date. After that date, your book will be donated to a Houston-based literacy organization.
To place an international order, please email orders@bluewillowbookshop.com to obtain shipping details and to have items shipped to you. Staff will respond within 24-48 hours.
Event date:
Tuesday, July 27, 2021 - 11:00am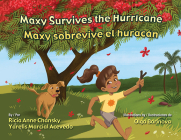 $18.95

ISBN: 9781558859180
Availability: Usually Ships in 4-7 Days
Published: Pinata Books - May 31st, 2021
---