Elise Hooper and Allison Crotzer Kimmel
What: Elise Hooper and Allison Crotzer Kimmel will discuss their new books, Fast Girls and Unbeatable Betty. This event will take place on Blue Willow's Facebook Live stream.
When: Wednesday, July 22, 2020, 7:00pm
We work hard to bring events to our community for free, because connecting readers with authors is central to our mission. But these programs are not free for us to put on! If you're interested in attending this event, we hope you'll consider purchasing a copy of Fast Girls or Unbeatable Betty from our bookshop. Your support is critical to keeping us here and offering events like this, and we hope to do that for many years to come!
About the Author:
A New Englander by birth (and at heart), Elise Hooper lives with her husband and two young daughters in Seattle, where she teaches history and literature. The Other Alcott was her first novel.
Allison Crotzer Kimmel is the author of several nonfiction children's books.When not writing, she teaches high school English and serves on the SCBWI CenCal advisory board as Kern County mingle host. Allison lives in Bakersfield, CA with a pack that includes three dogs, two children, and one husband, and she loves every crazy minute of it. You can visit Allison online at www.allisoncrotzerkimmel.com.
Ordering:
Payment type must be "CreditCard." Shipping will be charged if you want the book shipped to you. If you'd prefer to use our curbside pickup program, we ask that you please collect your book(s) within one month of the event date. After that date, your book will be donated to a Houston-based literacy organization.
To place an international order, please email orders@bluewillowbookshop.com to obtain shipping details and to have items shipped to you. Staff will respond within 24-48 hours.
Event date:
Wednesday, July 22, 2020 - 7:00pm

$16.99

ISBN: 9780062937995
Availability: Usually Ships in 4-7 Days
Published: William Morrow Paperbacks - July 7th, 2020
ONE OF THE MOST ANTICIPATED BOOKS OF THE SUMMER BY POPSUGAR, FROLIC, PARADE, TRAVEL & LEISURE, SHE KNOWS, and SHE READS! 

NAMED A REAL SIMPLE BEST BOOK OF 2020 (SO FAR).
---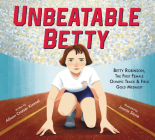 $17.99

ISBN: 9780062896070
Availability: Usually Ships in 4-7 Days
Published: HarperCollins - June 9th, 2020
An inspiring picture book biography of the first woman to win a gold medal in track and field. Young readers intrigued by the Summer 2021 Olympics in Tokyo will be inspired by this story. This nonfiction picture book is an excellent choice to share during homeschooling, in particular for children ages 4 to 6.
---