Charles Trevino | Seaside Stroll
What:
We are THRILLED to launch Charles Trevino's debut picture book Seaside Stroll.
This event is free to attend, but registration is required. You can register for the event here. Once you register, you will receive an invitation to join the event.
NOTE: Because this is a virtual event that will be hosted on Zoom, you will need access a computer or other device that is capable of accessing the internet at a sufficient bandwidth. If you have not used Zoom before, don't worry: It's easy! Here's a quick reference guide to help you get oriented: Getting Started with Zoom
When:
Saturday, February 6th, 2021, 1:00pm Central time
We work hard to bring events to our community for free, because connecting readers with authors is central to our mission. But these programs are not free for us to put on! If you're interested in attending this event, we hope you'll consider purchasing a copy of Seaside Stroll from our bookshop. Your support is critical to keeping us here and offering events like this, and we hope to do that for many years to come!
Blue Willow Bookshop expects all participants to maintain an atmosphere of respect and fairness. Any comments or questions that violate this standard of behavior including any form of harassment, may, at the discretion of the organizers, be immediately removed.
About the Author:
Charles Trevino is the program coordinator of the American Sign Language interpreter training technology program at Lone Star College in The Woodlands, Texas. He was inspired by ASL poetry when creating the structure for this, his first picture book.
Ordering:
Payment type must be "CreditCard." Shipping will be charged if you want the book shipped to you. If you'd prefer to use our curbside pickup program, we ask that you please collect your book(s) within one month of the event date. After that date, your book will be donated to a Houston-based literacy organization.
International shipping will be $35.00.
Event date:
Saturday, February 6, 2021 - 1:00pm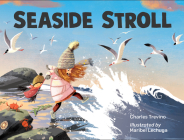 $16.99
ISBN: 9781580899321
Availability: On Our Shelves Now
Published: Charlesbridge - January 19th, 2021
Go on a snowy, sandy shore walk in a story where every single word starts with the letter S!

---