Brendan Wenzel
What: Brendan Wenzel will discuss and sign his new picture book A STONE SAT STILL.
When: Tuesday, October 8, 2019, 5:00pm
Where: Blue Willow Bookshop, 14532 Memorial Drive, Houston, TX 77079
Admission: In order to go through the signing line and meet Brendan Wenzel for book personalization, please purchase A STONE SAT STILL from Blue Willow Bookshop. At the time of your purchase, we will issue a signing line ticket that indicates your place in line. Your book and signing line ticket can be picked up at the event.
About the Author:
Brendan Wenzel is a New York Times bestselling author and illustrator based in upstate New York. He wrote Hello Hello and They All Saw a Cat, which was the recipient of a Caldecott Honor. He is a proud collaborator with groups working to protect and conserve wild places and creatures.
Ordering:
A limited number of autographed copies of this book will be available for purchase after the event. If you cannot attend the event and would like a personalized copy of this book, please call us before the event at (281) 497-8675, or add the book to your cart on our website and add personalization details in the order notes. Payment type must be "CreditCard." Shipping will be charged if you want the book shipped to you. If you cannot attend the event and prefer in-store pick up, please pick up your unclaimed book(s) within a month of the event date. After that date, your book will be donated to a Houston-based literacy organization.
To place an international order, please email orders@bluewillowbookshop.comto obtain shipping details and to have items shipped to you. Staff will respond within 24-48 hours.
Event date:
Tuesday, October 8, 2019 - 5:00pm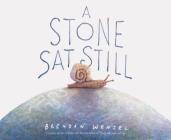 $17.99
ISBN: 9781452173184
Availability: On Our Shelves Now
Published: Chronicle Books - August 27th, 2019
The brilliant follow-up to the Caldecott Honor-winning and New York Times bestselling picture book They All Saw a Cat by Brendan Wenzel!

A Stone Sat Still tells the story of a seemingly ordinary rock—but to the animals that use it, it is a resting place, a kitchen, a safe haven...even an entire world.

---