Bookworm | Margaret Chiu Greanias, Tracy Subisak and Nancy Krulik
What:
Please join us for the Bookworm 2022 discussion between Margaret Chiu Greanias, Tracy Subisak and Nancy Krulik moderated by Joanna Ho!
When:
Tuesday, February 1, 2022, 1:00pm CDT
Where:
This event will be a Zoom webinar, please click here to register.
We work hard to bring events to our community for free, because connecting readers with authors is central to our mission. But these programs are not free for us to put on! If you're interested in attending this event, we hope you'll consider purchasing a copy of these authors books from our bookshop - your support is critical to keeping us here and offering events like this, and we hope to do that for many years to come!
The panels will be uploaded to YouTube each evening, for on-demand viewing, and will remain there for 2 weeks. PLEASE NOTE: Individuals are not allowed to record panels for future viewing.
Blue Willow Bookshop expects all participants to maintain an atmosphere of respect and fairness. Any comments or questions that violate this standard of behavior including any form of harassment, may, at the discretion of the organizers, be immediately removed.
About the Panel Authors:
Margaret Chiu Greanias is the author of Maximillian Villainous. The daughter of Taiwanese immigrants, she grew up in New York, Texas, and California, while her Amah lived far away in Taipei. This book was inspired by her childhood memories visiting her Amah-exploring night markets, splashing in hot springs, and connecting with relatives-and by her children experiencing Taiwan with their Amah for the first time. She currently lives in the San Francisco Bay Area with her husband, three children, and a fluffle of dust bunnies. Find her online at margaretgreanias.com and @MargaretGreania.
Tracy Subisak can't stop thinking about being back in Taipei, eating yóutiáo and dòujiang (soy milk) with her Amah and Mama. Tracy is the daughter of a Taiwanese mother and Polish American father. She lived in Taipei for a bit as an adult and saw her Amah every week, ate delicious night-market snacks, and enjoyed every detail of beautiful Taiwan. She is the author-illustrator of Jenny Mei Is Sad, and has illustrated books including the award-winning Shawn Loves Sharks by Curtis Manley and Wood, Wire, Wings: Emma Lilian Todd Invents an Airplane by Kirsten Larson. Visit her online at tracysubisak.com and @tracysubisak.
Nancy Krulik is the author of more than 200 books for children and young adults, three of them New York Times bestsellers . Her series, including How I Survived Middle School, Katie Kazoo Switcheroo, George Brown, Class Clown, Magic Bone, Project Droid, Princess Pulverizer, and Ms. Frogbottom's Field Trips are beloved around the world. Nancy lives in Manhattan with her husband, composer Daniel Burwasser. Visit her online at www.realnancykrulik.com.
About the Panel Moderator:
Joanna Ho is passionate about equity in books and education. She has been an English teacher, a dean, and a teacher professional development mastermind. She is currently the vice principal of a high school in the San Francisco Bay Area. Homemade chocolate chip cookies, outdoor adventures, and dance parties with her kids make Joanna's eyes crinkle into crescent moons. Her books for young readers include Eyes That Kiss in the Corners. Visit her at www.joannahowrites.com and @JoannaHoWrites.
Ordering:
Payment type must be "CreditCard." Priority shipping will be charged if you want the book shipped to you. If you'd prefer to use our curbside pickup program, we ask that you please collect your book(s) within one month of the event date. After that date, your book will be donated to a Houston-based literacy organization.
International shipping is $35.
Event date:
Tuesday, February 1, 2022 - 1:00pm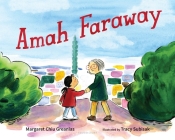 $18.99

ISBN: 9781547607211
Availability: Usually Ships in 4-7 Days
Published: Bloomsbury Children's Books - January 25th, 2022
A delightful story of a child's visit to a grandmother and home far away, and of how families connect and love across distance, language, and cultures.

Kylie is nervous about visiting her grandmother-her Amah-who lives SO FAR AWAY.
---

$12.99

ISBN: 9781645950325
Availability: Usually Ships in 4-7 Days
Published: Pixel+Ink - January 18th, 2022
A new young chapter book series about a chicken who loves math, science, and learning new things--by New York Times bestselling author Nancy Krulik for fans of Unlimited Squirrel and Bumble and Bee.

---

$18.99

ISBN: 9780063057753
Availability: On Our Shelves Now
Published: HarperCollins - February 15th, 2022
New York Times bestselling team Joanna Ho and Dung Ho present Eyes That Speak to the Stars, companion to the acclaimed Eyes That Kiss in the Corners.

"A brilliant treatise to love of self and heritage." —School Library Journal (starred review)
---