IN PERSON Kelly Bennett | The House that Ruth Built
What:
We are very excited to welcome Kelly Bennett to the shop to celebrate her new book, The House that Ruth Built.
We encourage all event attendees to mask if the event is crowded and we have surgical masks on hand if you find yourself without one.
NOTE: Books will be available for pick up at the event. Although reservations are not required, we appreciate them! You can RSVP here.
When:
Thursday, June 8, 2023 at 5:00 PM Central Time
Where:
Blue Willow Bookshop, 14532 Memorial Drive, Houston, TX 77079
In order to go through the signing line and meet Kelly Bennett for book personalization, please purchase The House that Ruth Built from Blue Willow Bookshop. At the time of your purchase, we will issue a signing line ticket that indicates your place in line. Your book and signing line ticket can be picked up at the event.
If you cannot attend the event or you live out of town and would like a copy of the book, please indicate any personalization requests in the comments section when you check out.
Blue Willow Bookshop expects all participants to maintain an atmosphere of respect and fairness. Any comments or questions that violate this standard of behavior including any form of harassment, may, at the discretion of the organizers, be immediately removed.
About the Authors:
Kelly Bennett is the author of many award-winning books for children—mostly picture books. Her stories, such as Not Norman, A Goldfish Story, a Jumpstart Read for the Record book; Norman, One Amazing Goldfish, Vampire Baby; Your Daddy Was Just Like You & Your Mommy Was Just Like You; Dance, Y'all, Dance; Dad and Pop; and One Day I Went Rambling, an Illinois Library Association's iREAD selection, celebrate imagination, families, friends, pets… all that goes into being a kid! 2023 will see the release of Kelly's, The House That Babe Ruth Built with Familius. To see more, please visit www.kellybennett.com
Kelly is a graduate of VCFA's Writing for Children and Young Adults program, and a long-standing member of SCBWI and The Author's Guild. A former ARA for SCBWI-Houston, Kelly now divides her time between Houston, TX, Westhampton Beach, NY, and Mimiville (which is anywhere her grandboys may be).
Ordering:
Payment type must be "CreditCard." Shipping will be charged if you want the book shipped to you. If you'd prefer to use our curbside pickup program, we ask that you please collect your book(s) within one month of the event date. After that date, your book will be donated to a Houston-based literacy organization.
International shipping can run from $25-50US in addition to the cost of the book and can take up to 3 months to reach its destination. Additionally, we can only ship to certain regions and countries. If you'd like to pursue international shipping, please email cathy@bluewillowbookshop.com.
Event date:
Thursday, June 8, 2023 - 5:00pm
Event address:
Blue Willow Bookshop
14532 Memorial Drive
Houston, TX 77079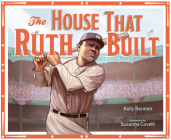 $17.99

ISBN: 9781641707541
Availability: On Our Shelves Now
Published: Familius - March 28th, 2023
A Children's Book Council Hot of the Press Selection​

It's Opening Day! Yankee Stadium towers grand, gleaming, and ready!

On April 18, 1923, the New York Yankees played against the Boston Red Sox in their very first game in the brand-new Yankee Stadium.
---