Submitted by Blue Willow Dig... on Tue, 03/19/2019 - 11:41am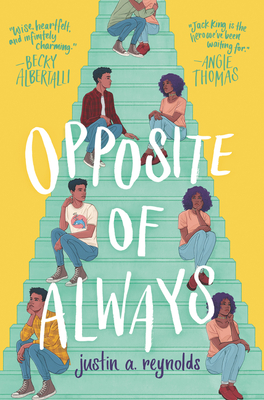 There's nothing in publishing quite as magical as a perfect debut novel. Not only does it make for great reading, but it so sublimely sets the stage for books to come. The latest debut to make our hearts flutter and our other books jealous? Opposite of Always by Justin A. Reynolds, the time-travelling love story (written by a former NASA intern) that you didn't know you were waiting for. We'll be plain: This pitch-perfect, hilarious, heartfelt novel needs to be at the top of your TBR list. If that's not enough, take the recommendation of folks you already know and love—folks like Angie Thomas, Becky Albertalli, and our very own events coordinator, Cathy Berner. "It's funny and suspenseful—part Groundhog Day, part Love Story... a great story and a great new voice," says Cathy. And she would know—she chaired the nationwide Indies Introuduce committee that selected Opposite of Always as one of the top debut novels for young adults this spring.
We can't wait for you to meet Justin at the tenth annual TeenBookCon on March 30—he'll be there alongside 23 other wonderful young adult authors and thousands of fans. Tempting though it sounds to time travel straight to the festival, that technology continues to elude us here at the shop. So instead, tide yourself over by checking out our exclusive Q&A with the author. Then take a minute to register for TeenBookCon so you can meet Justin, ask questions, and get your book signed. We'll see you then!