Submitted by Blue Willow Dig... on Mon, 09/02/2019 - 2:22pm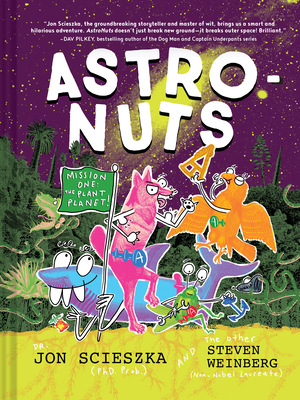 If you've known us for a while, you probably know that we can't get enough of Jon Scieszka. From The Stinky Cheese Man to the Time Warp Trio to Frank Einstein and beyond, each and every one of his books have made us cackle with laughter and love our jobs. It's no wonder, then, that we're beyond excited for his new series with illustrator Steven Weinberg, AstroNuts. Book one is full of signature Scieszka humor and absorbing illustrations, and it brings science—including climate change—to life in an accessible, entertaining way. It's going to be a hit, friends.
To make things even more exciting, we've partnered with the book's publisher, Chronicle Books, to offer an exclusive perk—pre-order your copy of AstroNuts Mission One: The Plant Planet on our website before the book is released on September 10, and we'll send you a first edition signed by both Jon and Steven. And don't miss Jon and Steven at this year's Tweens Read festival on October 19! Until then, check out our Q&A with the creators.