Submitted by Blue Willow Dig... on Fri, 05/17/2019 - 4:43pm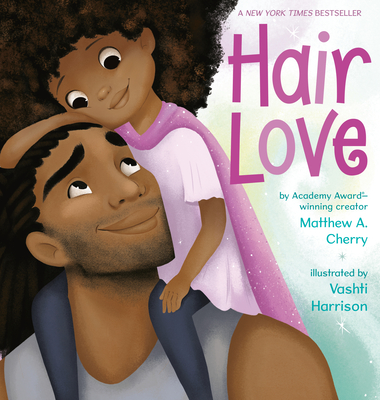 Friends, have you seen the charming new picture book gracing our display this week? It's called Hair Love. Adapted from the animated short film of the same name, the book is a celebration of fathers and daughters—and an ode to loving your natural hair.
It's a sweet and empowering story, and we can't wait to share it with you. What's more, we're absolutely thrilled to welcome the author, Matthew A. Cherry, to the shop on May 21! You may remember Matthew from his time as a wide receiver in the NFL. Nowadays, he's an author and filmmaker—and was named to Paste Magazine's list of Directors to Watch in 2016. Matthew will be joined by our friend (and Bookworm Festival 2019 alum) Vashti Harrison, who illustrated the book and provided character art for the short film.
Check out our Q&A with the creators, then be sure to head to our events calendar for the details—we're looking forward to seeing you!