Submitted by Blue Willow Dig... on Tue, 07/05/2022 - 5:27pm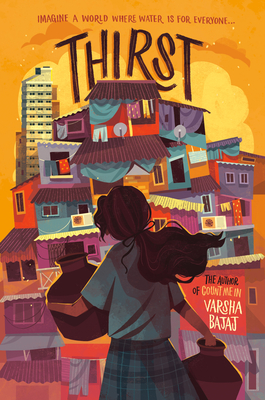 Our dear friend (and neighbor to some of our staffers!) Varsha Bajaj returns this month with a brand new middle grade novel, Thirst. Friends, the book is incredible. It's a poignant, page-turning mystery that addresses the class divide and access to resources head-on, and its Mumbai setting provides an incredible window into life on the other side of the world. The book is also full of jumping-off points for important discussions, and has already been named a Global Read Aloud selection for 2022. We can't wait for you to read it.
We are honored and excited to welcome Varsha to the shop for an in-person event celebrating the book's release on July 16. If you pre-order the book through us before then, you can get a signed, personalized copy — and we'll make a donation to Water.org. (If you're an educator, the deal is even sweeter — you can upload your proof of purchase and receive a free educator's kit for the classroom, courtesy of the book's publisher.) In the meantime, check out our Q&A with Varsha below!