Gallant (Large Print / Library Binding)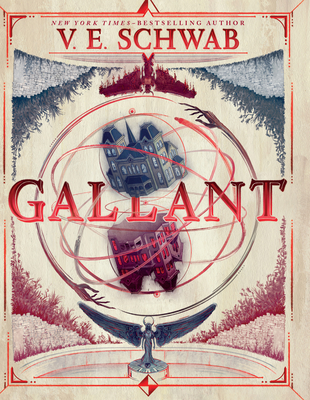 $36.44

Usually Ships in 4-7 Days
Staff Reviews
---
Orphan Olivia has nothing of her parents besides a journal of handwritten notes interspersed with drawings. One day a letter arrives at the orphanage inviting her to her uncle's house, Gallant. When she arrives no one knows who she is or seems to want her there.
There is a wall at the bottom of the grand house's garden, with a door in the center. A door that draws Olivia's attention and is a source of fear for the occupants of the house.
After finding her mother's journal, Olivia starts to unravel the mystery of her parents, the mysterious door in the wall, and the house that lies beyond...
— Caroline
March/April 2022 Kids Indie Next List
---
"A family curse, a haunted house, and a shadow realm await Olivia Prior as she returns to her ancestral home, despite her mother's ominous final warning. A dark fantasy perfect for fans of Neil Gaiman and Melissa Albert. Not one to miss!"
— Matilda McNeely, Little Shop of Stories, Decatur, GA
Description
---
AN INSTANT #1 NEW YORK TIMES BESTSELLER
A USA TODAY BESTSELLER
A NATIONAL INDIE BESTSELLER
"A bone-chilling standalone . . . which fuses Shirley Jackson's gothic horror sensibilities with the warmth and dark whimsy of Neil Gaiman."--Publishers Weekly, starred review
"Gripping worldbuilding, well-rounded characters, and fantastic horror."--Kirkus Reviews, starred review
"Unsettling and intriguing."--Bulletin of the Center for Children's Books, starred review
Everything casts a shadow. Even the world we live in. And as with every shadow, there is a place where it must touch. A seam, where the shadow meets its source.
#1 New York Times-bestselling author V. E. Schwab weaves a dark and original tale about the place where the world meets its shadow, and the young woman beckoned by both sides. The Secret Garden meets Crimson Peak in this stand-alone novel perfect for readers of Holly Black and Neil Gaiman.
Olivia Prior has grown up in Merilance School for Girls, and all she has of her past is her mother's journal--which seems to unravel into madness. Then, a letter invites Olivia to come home to Gallant. Yet when Olivia arrives, no one is expecting her. But Olivia is not about to leave the first place that feels like home; it doesn't matter if her cousin Matthew is hostile, or if she sees half-formed ghouls haunting the hallways.
Olivia knows that Gallant is hiding secrets, and she is determined to uncover them. When she crosses a ruined wall at just the right moment, Olivia finds herself in a place that is Gallant--but not. The manor is crumbling, the ghouls are solid, and a mysterious figure rules over all. Now Olivia sees what has unraveled generations of her family, and where her father may have come from.
Olivia has always wanted to belong somewhere, but will she take her place as a Prior, protecting our world against the Master of the House? Or will she take her place beside him?
New York Times-bestselling author V. E. Schwab crafts a vivid and lush novel that grapples with the demons that are often locked behind closed doors. An eerie, stand-alone saga about life, death, and the young woman beckoned by both. Readers of Neil Gaiman, Holly Black, Melissa Albert, and Garth Nix will quickly lose themselves in this novel with crossover appeal for all ages.