Caraval (Paperback)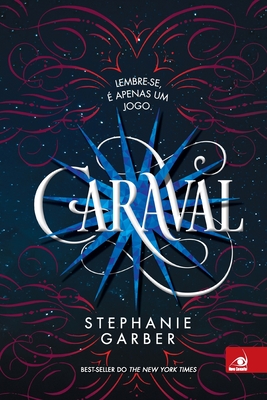 Staff Reviews
---
Welcome to Caraval, once a year performance to which invitations are highly prized. Scarlett and her sister Tella have dreamed of attending Caraval for years, but their sadistic father won't let them leave their island, let alone attend something as fantastic as this. On the eve of Scarlett's arranged marriage, she and Tella receive their cherished invitations to the game and sneak off the island to attend Caraval. Upon their arrival, Tella is kidnapped by Legend, the Mastermind of Caraval, and it's up to Scarlett to save her. Is it real? Is it a game? You'll have to read this spectacular novel to find out for yourself. For grades 8 and up.
— Cathy
Scarlett Dragna, desperate to free herself and her younger sister Donatella from their abuse father, even if their way out requires her to marry someone she's never met. Her wedding is only a week away when Scarlett receives invitations to Caraval, a magical game that many whisper about but few get to play. She is ready to throw away the tickets and her magical dreams in order to go through with her wedding, but Tella is determined to experience an adventure. Scarlett must find a way to save her sister from the deceptive, twisted game, and return in time for the wedding. But nothing in Caraval is as it appears, and as the game progresses, Scarlett's entire life comes into question.
— Madeline
Description
---
Tudo o que voc j ouviu sobre Caraval, n o se aproxima da realidade. Este bestseller do The New York Times mais do que um jogo ou uma performance. o mais perto que voc chegar da magia neste mundo. Scarlett nunca saiu da pequena ilha onde ela e sua irm , Donatella, vivem com seu cruel e poderoso pai, o Governador Dragna. Desde crian a, Scarlett sonha em conhecer o Mestre Lenda do Caraval, e por isso chegou a escrever cartas a ele, mas nunca obtivera resposta. Agora, j crescida e temerosa do pai, ela est de casamento marcado com um misterioso conde, e certamente n o ter mais a chance de encontrar Lenda e sua trupe, mas isso n o a impede de escrever uma carta de despedida a ele. Dessa vez o convite para participar do Caraval finalmente chega Scarlett. No entanto, aceit -los est fora de cogita o, Scarlett n o pretende desobedecer ao pai. Sendo assim, Donattela, com a ajuda de um misterioso marinheiro, sequestra e leva Scarlett para o espet culo. Mas, assim que chegam, Donattela desaparece, e Scarlett precisa encontr -la o mais r pido poss vel. O Caraval um jogo elaborado, que precisa de toda a ast cia dos participantes. Ser que Scarlett saber jogar? Ela tem apenas cinco dias para encontrar sua irm e vencer esta jornada.Leia tamb m: Lend rio, continua o deste livro.
About the Author
---
Stephanie Garber loves Disneyland because it's the one place on earth where she feels as if the fantastical stories she loves to write about could actually come to life. When she's not writing young adult fantasy, she teaches creative writing at a private college in northern California, where she's known for turning assignments into games and taking students on field trips that involve book signings. Caraval is her first novel for young adults. She would love to hear from you on social media.