Americanah (edición especial limitada) (Spanish Edition) (Paperback)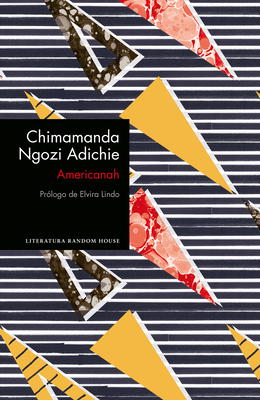 $15.95
Usually Ships in 1-5 Days
Staff Reviews
---
Ifemelu and Obinze have been inseparable since they were teenagers and assume that they will always be together. But Ifemelu gets a visa to attend college in the U.S., and Obinze doesn't. After she has a traumatic experience, Ifemelu distances herself from Obinze, first dating a wealthy, white man and then an American black college professor. These distinctions are important because Ifem starts a blog from the perspective of a non-American black person. She observes Americans' unspoken caste system of discrimination as well as American blacks' prejudice against others with darker skin.
Eventually feeling a deep homesickness, Ifemelu returns to Nigeria and meets again with Obinze, who is now a wealthy, married man. She also begins to blog about Nigerians, noting the ways they have advanced and the ways they have stayed the same. Adiche has a brilliant eye for truth, whether it is about people's biases and conceits or about the hair treatment alternatives for women with "kinky" hair.
— Cynthia
Description
---
Uno de los mejores libros de ficción la década del 2010 según Times

Nominada por los estadounidenses como una de las 100 mejores novelas en la serie de PBS The Great American Read.

Una original historia sobre la inmigración en Estados Unidos desde el punto de vista de una estudiante de literatura nigeriana.

Americanah ha sido galardonada con el National Book Critics Circle Award 2014 y seleccionada por los ciudadanos de Nueva York como el libro ganador de la campaña «One Book, One New York» 2017.

Edición especial limitada con prólogo de Elvira Lindo

Lagos, mediados de los noventa. En el marco de una dictadura militar y en una Nigeria que ofrece poco o ningún futuro, Ifemelu y Obinze, dos adolescentes atípicos, se enamoran apasionadamente. Como gran parte de su generación, saben que antes o después tendrán que dejar el país. Obinze siempre ha soñado con vivir en Estados Unidos, pero es Ifemelu quien consigue el visado para vivir con su tía en Brooklyn y estudiar en la universidad. Mientras Obinze lucha contra la burocracia para reunirse con Ifemelu, ella se encuentra en una América donde nada es como se imaginaba, comenzando por la importancia del color de su piel. Todas sus experiencias, desgracias y aventuras conducen a una única pregunta: ¿acabará convirtiéndose en una «americanah»?

Americanah, que recoge el término burlón con que los nigerianos se refieren a los que vuelven de Estados Unidos dándose aires, es una historia de amor a lo largo de tres décadas y tres continentes, la historia de cómo se crea una identidad al margen de los dictados de la sociedad y sus prejuicios.

ENGLISH DESCRIPTION

One of Time's 10 Best Fiction Books of the 2010s

Nominated as one of America's best-loved novels by PBS's The Great American Read

The bestselling novel—a love story of race and identity—from the award-winning author of We Should All Be Feminists and Dear Ijeawele.

Ifemelu and Obinze are young and in love when they depart military-ruled Nigeria for the West. Beautiful, self-assured Ifemelu heads for America, where despite her academic success, she is forced to grapple with what it means to be black for the first time. Quiet, thoughtful Obinze had hoped to join her, but with post-9/11 America closed to him, he instead plunges into a dangerous, undocumented life in London. Fifteen years later, they reunite in a newly democratic Nigeria, and reignite their passion—for each other and for their homeland.
About the Author
---
Chimamanda Ngozi Adichie nació en 1977 en Nigeria. A los diecinueve años consiguió una beca para estudiar comunicación y ciencias políticas en Filadelfia. Posteriormente cursó un máster en escritura creativa en la Universidad John Hopkins de Portland, y actualmente vive entre Nigeria y Estados Unidos. A día de hoy Literatura Random House ha publicado tres novelas: La flor púrpura, ganadora del Commonwealth Writers' Prize y el Hurston/Wright Legacy Award, Medio sol amarillo, galardonada con el Orange Prize for Fiction y finalista del National Book Critics Circle Award, y Americanah, que recibió el elogio de la crítica y fue galardonada con el Chicago Tribune Heartland Prize 2013 y el National Book Critics Circle Award en 2014. Ha publicado también en esta editorial la colección de relatos Algo alrededor de tu cuello, el ensayo Todos deberíamos ser feministas (el reconocido TEDx Talk que ha tenido tres millones y medio de visitas en Youtube) y su último manifiesto, Querida Ijeawele. Cómo educar en el feminismo.

chimamanda.com

facebook.com/chimamandaadichie
Praise For…
---
Reseñas:

«Confirma el virtuosismo, la empatía sin límites y la punzante agudeza social de Adichie.» -Dave Eggers

«Hay algunas novelas que cuentan una gran historia y otras que consiguen que cambies la manera que tienes de ver el mundo. Americanah, de Chimamanda Ngozi Adichie, consigue las dos cosas.» -Elisabeth Day, The Guardian

«Americanah es esa cosa rara en la ficción literaria contemporánea: una exuberante historia de amor que también es una crítica social penetrante y divertida [...] Adichie escribe con perspicacia.» -Vogue