The Great Offshore Grounds: A novel (Paperback)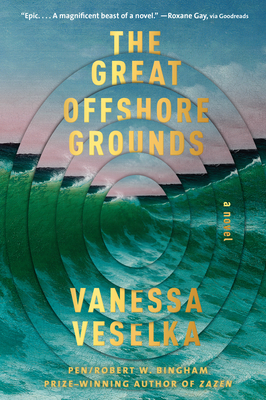 $16.00

Usually Ships in 4-7 Days
Description
---
NATIONAL BOOK AWARD NOMINEE • A wildly original, cross-country novel that subverts a long tradition of family narratives and casts new light on the mythologies—national, individual, and collective—that drive and define us.

On the day of their estranged father's wedding, half sisters Cheyenne and Livy set off to claim their inheritance. It's been years since the two have seen each other. Cheyenne is newly back in Seattle, crashing with Livy after a failed marriage and a series of personal and professional dead ends. Livy works refinishing boats, her resentment against her freeloading sister growing as she tamps down dreams of fishing off the coast of Alaska. But the promise of a shot at financial security brings the two together to claim what's theirs. Except, instead of money, what their father gives them is information—a name—which forces them to come to grips with a long-held family secret. In the face of their new reality, the sisters and their adopted brother each set out on journeys that will test their faith in one another, as well as their definitions of freedom.
 
Moving from Seattle's underground to the docks of the Far North, from the hideaways of the southern swamps to the storied reaches of the Great Offshore Grounds, Vanessa Veselka spins a tale with boundless verve, linguistic vitality, and undeniable tenderness.
About the Author
---
Vanessa Veselka is the author of the novel Zazen, which won the PEN/Robert W. Bingham Prize. Her short stories have appeared in Tin House and ZYZZYVA, and her nonfiction in GQ, The Atlantic, Smithsonian, The Atavist Magazine, and was included in The Best American Essays and the anthology Bitchfest: Ten Years of Cultural Criticism. She has been, at various times, a teenage runaway, a sex worker, a union organizer, an independent record label owner, a train hopper, a waitress, and a mother. She lives in Portland, Oregon.
Praise For…
---
A BEST BOOK OF THE YEAR: VULTURE, INSIDEHOOK, THE NEW YORK PUBLIC LIBRARY • WINNER OF THE OREGON BOOK AWARDS' KEN KESEY AWARD FOR FICTION

"Epic. . . . A magnificent beast of a novel." —Roxane Gay, via Goodreads

"Veselka traces [her characters'] arcs with empathy and an earthy sense of humor but also with a ruthless eye. She is a remarkable writer." —Los Angeles Times

"Vivid. . . . Unflinching. . . . The portrayal of . . . late capitalist America is realistic and devastating." —The Seattle Times
 
"A brilliant and fearless book." —Nathan Hill, author of The Nix

"I was riveted by every line, the humor of being alive, the pathos of this deeply American narrative, and the energy of the prose, which contains everything from the blunt and stunning grammar of history to the personal language of the heart." —Hilary Leichter, Oregon Book Awards judges' citation

"The Great Offshore Grounds reminded me of what a great novel can do—Veselka's seafaring epic has the forward momentum of a grand adventure and the spiraling depth of a new myth." —Karen Russell, author of Sleep Donation

"[The characters'] misadventures are compelling in and of themselves, irrespective of whether they serve to highlight the rapacity of unchecked neoliberalism or the growing hole in America's social safety net. Rather than subordinate her protagonists' experiences to a larger narrative, Veselka patiently waits for a chance to make a connection between one and the other." —The Boston Globe

"Veselka blends fascinating details of seamanship, cab driving, and boot camp with intimate, spot-on descriptions of contemporary American poverty. . . . This gritty and unsentimental work is compassionate, funny, and deeply human." —Publishers Weekly (starred review)

"Points of view shift kaleidoscopically, passages of history and politics are woven into the questlike narratives of the characters. The result is a fiery and occasionally luminous chaos that feels true to the experience of those for whom each day is lived at the edges of mainstream society." —Kirkus Reviews
 
"A fitting story for our times of families trying to stay together despite all odds, redefining their own relationships along life's perilous journeys." —Booklist

"Wry, epic, glorious." —Emma Donoghue, author of The Pull of the Stars