The Flight Portfolio: A novel (Large Print / Paperback)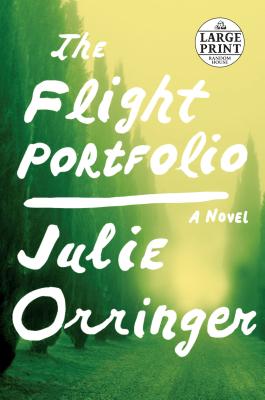 $31.00
Usually Ships in 1-5 Days
Staff Reviews
---
Orringer (The Invisible Bridge) has based her new novel on the true experiences of Varian Fry, who, as a young man in 1940 Vichy France, ran an American-funded organization that helped European refugees escape France. His mission focused on artists and other personnes importantes --Marc Chagall and other surrealists, Hannah Arendt and others -- and he used whatever means available, both legitimately issued documents and forged visas and passports, to get his clients out of the country by train, ship or on foot across the Pyrenees. It's a story packed with adventure, suspense, deprivation and some violence. But it's also a fictionalized narrative of Fry's personal life as a married gay/bisexual man, in particular his relationship with a college friend who resurfaces after a 12-year absence from Fry's life.
Well-researched and peopled with well-drawn characters, both real and fictional, this is a page turner that will appeal even to those who think they have had their fill of WWII novels. Highly recommended
— Alice
Description
---
The long-awaited new work from the best-selling author of The Invisible Bridge takes us back to occupied Europe in this gripping historical novel based on the true story of Varian Fry's extraordinary attempt to save the work, and the lives, of Jewish artists fleeing the Holocaust

In 1940, Varian Fry--a Harvard educated American journalist--traveled to Marseille carrying three thousand dollars and a list of imperiled artists and writers he hoped to rescue within a few weeks. Instead, he ended up staying in France for thirteen months, working under the veil of a legitimate relief organization to procure false documents, amass emergency funds, and set up an underground railroad that led over the Pyrenees, into Spain, and finally to Lisbon, where the refugees embarked for safer ports. Among his many clients were Hannah Arendt, Franz Werfel, André Breton, Max Ernst, Marcel Duchamp, and Marc Chagall.
The Flight Portfolio opens at the Chagalls' ancient stone house in Gordes, France, as the novel's hero desperately tries to persuade them of the barbarism and tragedy descending on Europe. Masterfully crafted, exquisitely written, impossible to put down, this is historical fiction of the very first order, and resounding confirmation of Orringer's gifts as a novelist.
About the Author
---
Julie Orringer is the author of two award-winning books: The Invisible Bridge, a novel, and the short-story collection How to Breathe Underwater, both New York Times Notable Books.  She is the winner of The Paris Review's Plimpton Prize and the recipient of fellowships from the Guggenheim Foundation, the National Endowment for the Arts, the MacDowell Colony, the Radcliffe Institute for Advanced Study at Harvard, and the Cullman Center for Scholars and Writers at the New York Public Library. She lives in Brooklyn.
Praise For…
---
One of The Wall Street Journal, The Washington Post, Entertainment Weekly and The Observer's most anticipated books of 2019

"Sympathetic and prodigiously ambitious…scrupulous... Her landscapes regularly rise to a Keatsian sensuousness.  Her Marseille breathes as a city breathes...a thriller."  
—New York Times Book Review, cover review

Gorgeous…lush…meticulously researched…classic storytelling through a transgressive lens…The Flight Portfolio offers a testament to the enduring power of art, and love, in any form." 
—Entertainment Weekly

"Remarkable... [A] passionate and thoroughgoing tribute... Orringer's novel brings to light a truly inspiring episode in history."
—The Wall Street Journal

"The novel seeks a kind of redress: restoring, to history's vast panorama, a granular sense of how life on the borderlines of fascism feels…. Orringer's true subject, the moral peril of being alive, is a grandly timeless — and timely — one."
—T Magazine

"Magnificent... As in 2010's superb The Invisible Bridge, Orringer seamlessly combines compelling inventions with complex fact... Brilliantly conceived, impeccably crafted, and showcasing Orringer's extraordinary gifts, this is destined to become a classic."
—Publishers Weekly [starred review]

"An elegant, meditative novelistic reconstruction of critical years in the life of Varian Fry... The central point of intrigue, providing a fine plot twist, is also expertly handled, evidence of an accomplished storyteller at work. Altogether satisfying. Mix Alan Furst and André Aciman, and you'll have a feel for the territory in which this well-plotted book falls."
—Kirkus Reviews [starred review]

"Gripping….Orringer is a beautiful prose stylist who captures depth of meaning about complex human issues, and she addresses head-on the moral dilemma of making value judgments on individual lives…. Vivid."
—Booklist

"Varian Fry lit a small, bright lamp in a world of darkness, and in the deft hands of Julie Orringer—under the spell of her masterful prose, her feeling portraiture, her classic spy-thriller plotting and her vivid recreation of that beautiful and terrible world—I found the radiance of Fry's courage, flawed humanity, and steadfast resistance shedding an inexhaustible light on our own ever-darkening time."
—Michael Chabon

"No book this year could possibly compare with The Flight Portfolio: ambitious, meticulous, big-hearted, gorgeous, historical, suspenseful, everything you want a novel to be."
—Andrew Sean Greer, Pulitzer Prize winning author of Less

"A historical novel absolutely relevant to our own time, The Flight Portfolio brings to life a hero as complex and engrossing as the agonizing ethical questions he faces. Orringer not only recreates the world of wartime Marseille, but seems to drop the reader there by way of a masterfully fashioned literary trapdoor--and anyone who picks up this spectacular novel risks a swift descent into its vivid and consuming swirl."
—Nell Freudenberger