The Authenticity Project: A Novel (Hardcover)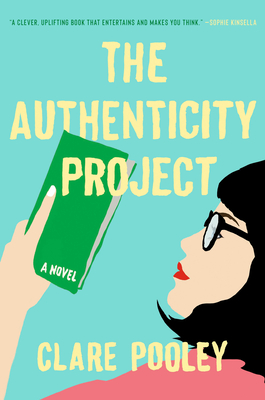 Staff Reviews
---
A green composition book left behind in Monica's cafe starts its journey around the world, changing the lives of all the people who pick it up, read it, and then write their own stories in it. Julian, the lonely,elderly artist, Monica, the cafe owner who would love to be a mother, and a cast of many populate this heartwarming tale of making a family out of strangers. As the characters start to interact, you will cheer them on through their journeys.
— Valerie
February 2020 Indie Next List
---
"Sometimes, especially in this digital age, we get caught up in the idea that while our lives are a mess, everyone else has got it together. And maybe — as Clare Pooley explores in The Authenticity Project — if we were all just honest about our insecurities and difficulties and worries, it would be easier for people to form stronger bonds. This is a charming book with a sweet love story, but at its heart it's a reminder that we need each other more than we need our phones."
— Melissa Fox, Watermark Books & Cafe, Wichita, KS
Description
---
"A warm, charming tale about the rewards of revealing oneself, warts and all."
—People

The story of a solitary green notebook that brings together six strangers and leads to unexpected friendship, and even love

Julian Jessop, an eccentric, lonely artist and septuagenarian believes that most people aren't really honest with each other. But what if they were? And so he writes--in a plain, green journal--the truth about his own life and leaves it in his local café. It's run by the incredibly tidy and efficient Monica, who furtively adds her own entry and leaves the book in the wine bar across the street. Before long, the others who find the green notebook add the truths about their own deepest selves--and soon find each other In Real Life at Monica's Café.

The Authenticity Project's cast of characters--including Hazard, the charming addict who makes a vow to get sober; Alice, the fabulous mommy Instagrammer whose real life is a lot less perfect than it looks online; and their other new friends--is by turns quirky and funny, heartbreakingly sad and painfully true-to-life. It's a story about being brave and putting your real self forward--and finding out that it's not as scary as it seems. In fact, it looks a lot like happiness.

The Authenticity Project is just the tonic for our times that readers are clamoring for--and one they will take to their hearts and read with unabashed pleasure.
About the Author
---
Clare Pooley graduated from Cambridge University, and then spent twenty years in the heady world of advertising before becoming a full-time writer. Pooley lives in Fulham, London with her husband, three children and two border terriers.
Praise For…
---
Praise for The Authenticity Project:

"The Authenticity Project is an enjoyable read that is cozy – or as its British characters would have it, cosy – in the best sense of the word."
—USA Today

"A well-suited subject for the Instagram era, this book makes you realize that no one's life is what it seems."
—Good Morning America

"A warm, charming tale about the rewards of revealing oneself, warts and all."
—People

"It all feels like a warm hug."
—The Washington Post

"Heartwarming."
—Real Simple

"An enjoyable, cozy novel that touches on tough topics."
—Kirkus Reviews

"[A] wistful, humorous tale. . . a beautiful and illuminating story of self-creation."
—Publishers Weekly

"I loved The Authenticity Project. It has such an intriguing premise, wonderful characters and is utterly truthful about the lies that we all tell. It's a clever, uplifting book that entertains and makes you think."
—Sophie Kinsella, #1 New York Times bestselling author of Confessions of a Shopaholic

"The Authenticity Project cracks the facades that people present to the world and shows what happens when you're willing to share your true self. This is a story of love, of community, of found family, and of forgiveness. A beautiful book with a poignant message, perfect for our time."
—Jill Santopolo, New York Times bestselling author of The Light We Lost

"The Authenticity Project is a rich roast of great characters, even better relationships, wonderful entanglements, and a few surprises along the way. If Monica's Cafe were a real place, I'd stop by every day."
—Laurie Frankel, New York Times bestselling author of This Is How It Always Is

"The Authenticity Project reads like a gorgeous box of chocolates: sweet, surprising and impossible not to love.  I found myself cheering, cringing, laughing and crying as I read this book and – above all – remembering the true value of community and human connection."
—Tara Conklin, New York Times bestselling author of The Last Romantics
 
"Insightful, timely, and utterly addictive, The Authenticity Project illuminates the importance of discovering - and honoring - our truest, most imperfect selves."
—Georgia Hunter, New York Times bestselling author of We Were The Lucky Ones
 
"Fans of Fredrik Backman and Gail Honeyman—make room on your shelves for Clare Pooley. The Authenticity Project is a stunning debut and it left me inspired me to share more of myself with the world."
—Steven Rowley, bestselling author of The Editor
 
"It's full of life's truths, funny, poignant and ultimately uplifting. I thoroughly enjoyed it."
—Fanny Blake, author of A Summer Reunion
 
"One of the best books I've read in a long time. Original, engaging, and unforgettable."
—Sarah Morgan, bestselling author of A Wedding in December
 
"It's a joyous, funny read that leaves you all warm inside."
—Beth Morrey, author of The Love Story of Missy Carmichael
 
"Beautifully written, thought provoking, and uplifting, The Authenticity Project is a warm and endearing tale about truth, friendship and the power of connection. Pooley's characters will stay with you long after you turn the final page. It was a joy to read."
—Mike Gayle, author of The Hope Family Calendar

"A heart-warming, feel-good story about love, loss and what it means to be human. Pooley's debut is gloriously upbeat and gorgeously readable."
—Annabel Abbs, author of The Joyce Girl