Pie is Messy: Recipes from The Pie Hole: A Baking Book (Hardcover)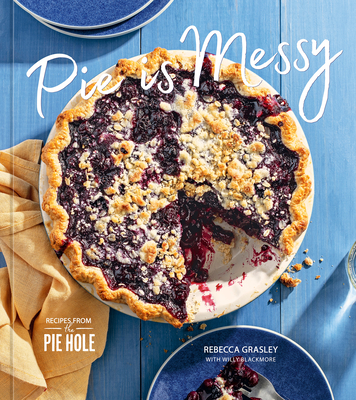 $28.00

Usually Ships in 4-7 Days
Staff Reviews
---
If you're in California, Arizona, Japan, or Saudi Arabia, you have the opportunity to visit The Pie Hole for a pie experience. If not, Pie Is Messy is a new cookbook that will give you the recipes to create that experience for yourself and endear others to you for delighting them. Born from the dream of Becky Grasley to have a little pie shop to share her love for pies, her son and his restaurant friend helped Becky set up shop in the Los Angeles Arts District. From there, it's grown more than Becky expected. Now, with a lifetime of experience in pie baking, Becky shares 100 recipes for fairly simple, smile-inducing pies. There are old school pies like many of us grew up eating and new school pies which are more inventive and contemporary. With the basic recipe for a double crust, you can make one pie now and have a crust ready to go in the freezer for a quick pie later. Have some fun and start rolling!
— Kimberly
Description
---
Learn how to make 100 perfectly imperfect pies with time-honored techniques to maximize taste from the founder of Los Angeles' beloved Pie Hole bakery.

In Pie Is Messy, Rebecca Grasley shares how she chased her dream of opening a California pie shop after retiring from a lifetime of nursing and factory work on the East Coast. Trading in the gingham curtains and cozy vibes of rural Pennsylvania for the industrial, tattoo-splattered Los Angeles Arts District, she set up shop with her son and his restaurant friend, marrying the traditional pies Becky learned to make from her grandmother with funky, irreverent flavors inspired by the new generation. In 2011, The Pie Hole was born—and it was a hit.

Now Becky is ready to share the pie gospel with home cooks everywhere, beginning with abandoning the idea of perfection. Pie is, after all, messy! Through 100 recipes, Pie is Messy takes readers from the basics of making crust to preparing contemporary hits from The Pie Hole. Each chapter covers a different category of pie and is broken down into two sections: Old School Pies and New School Pies. In the chapter Fruit Pies you'll find Old School Pies such as Blue Ribbon Apple Pie, Cherry Pie, and Lemon-Pear Pie and New School Pies such as Candied Lemon Chess Pie, Drunken Plum Frangipane Tart, and Vegan Blackberry-Mango Galette. The structure of each chapter allows you to learn the basics through classic recipes, and then see how they can be adapted and updated with more contemporary flavors and techniques.

Becky also shares stories from life creating pie recipes at The Pie Hole and from generations of her pie-loving family. In addition, she offers tutorials for all possible crust variations, tips and tricks for gussying up your pie's presentation, and making substitutions for vegan or gluten-free options. 

Pie Is Messy is beginner friendly, warm, and non-intimidating, and creative enough for more advanced bakers. So roll up your sleeves, grab your pie tins, and prepare to get messy!
About the Author
---
Rebecca Grasley is the founder of The Pie Hole and has more than fifty years of pie baking experience. After a career in nursing, Becky moved from rural Pennsylvania to finance the first Pie Hole in the L.A. Arts District location with her retirement savings. The Pie Hole has gone on to open nine locations in California and two in Japan and has a thriving e-commerce and consumer packaging business.

Willy Blackmore has covered the food world as a journalist for more than a decade. He has been honored by the Association of Food Journalists and nominated for awards by the International Association of Culinary Professionals and the LA Press Club. His writing has been published by New York, The Los Angeles Times, The New York Times Magazine, Eater, Down East Magazine, and elsewhere. Born and raised in Iowa, he grew up in Pie Country and now lives in Brooklyn, New York.