A Knock at Midnight: A Story of Hope, Justice, and Freedom (Hardcover)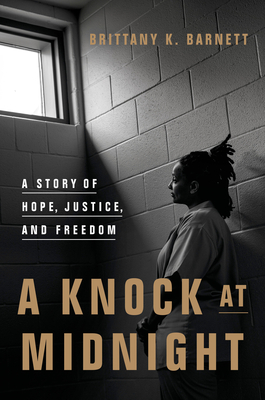 $28.00
Usually Ships in 4-7 Days
Staff Reviews
---
Coming of age in northeast Texas in the 1980s and 1990s, Brittany Barnett was a smart Black girl, surrounded by a large extended family who encouraged her to excel. But the drugs were a lucrative business for members of her community for whom few other job opportunities existed. When Barnett was ten, her mother, a hard-working nurse, went to jail for drug possession, and the two years of her incarceration made an indelible mark on the author's outlook on life. Not so many years later, with an honors degree in accounting and while working on a law degree, Barnett met Sharanda, a young mother who was serving a life sentence for a relatively minor drug offense, an example of the harsh sentences handed out during the War on Drugs era. Although she had a plum job as a corporate attorney, Barnett devoted her spare time to what was becoming her passion – seeking to reopen several cases, including Sharanda's, where punishments were much more severe than the crimes. The harsh laws have been modified in recent years, but prior convictions were not readdressed. Barnett's work had some success, and where cases weren't reopened, she was able to get clemency from the outgoing President Obama for several of her clients.
This is an inspiring story of a young woman's commitment to changing unjust laws and changing the lives of the thousands of individuals in prison on drug offenses.
— Alice
Description
---
LOS ANGELES TIMES BOOK PRIZE FINALIST • NAACP IMAGE AWARD NOMINEE • A "powerful and devastating" (The Washington Post) call to free those buried alive by America's legal system, and an inspiring true story about unwavering belief in humanity—from a gifted young lawyer and important new voice in the movement to transform the system.

"An essential book for our time . . . Brittany K. Barnett is a star."—Van Jones, CEO of REFORM Alliance, CNN Host, and New York Times bestselling author 

Brittany K. Barnett was only a law student when she came across the case that would change her life forever—that of Sharanda Jones, single mother, business owner, and, like Brittany, Black daughter of the rural South. A victim of America's devastating war on drugs, Sharanda had been torn away from her young daughter and was serving a life sentence without parole—for a first-time drug offense. In Sharanda, Brittany saw haunting echoes of her own life, as the daughter of a formerly incarcerated mother. As she studied this case, a system came into focus in which widespread racial injustice forms the core of America's addiction to incarceration. Moved by Sharanda's plight, Brittany set to work to gain her freedom.
 
This had never been the plan. Bright and ambitious, Brittany was a successful accountant on her way to a high-powered future in corporate law. But Sharanda's case opened the door to a harrowing journey through the criminal justice system. By day she moved billion-dollar deals, and by night she worked pro bono to free clients in near hopeless legal battles. Ultimately, her path transformed her understanding of injustice in the courts, of genius languishing behind bars, and the very definition of freedom itself.

Brittany's riveting memoir is at once a coming-of-age story and a powerful evocation of what it takes to bring hope and justice to a system built to resist them both.

NAMED ONE OF THE BEST BOOKS OF THE YEAR BY KIRKUS REVIEWS
About the Author
---
Brittany K. Barnett is an award-winning attorney and entrepreneur focused on social impact investing. She is dedicated to transforming the criminal justice system and has won freedom for numerous clients serving life sentences for federal drug offenses—seven of whom received executive clemency from President Barack Obama. Brittany has founded several nonprofits and social enterprises, such as XVI Capital Partners, Milena Reign LLC, the Buried Alive Project, and Girls Embracing Mothers. She has earned many honors, including being named one of America's most Outstanding Young Lawyers by the American Bar Association.
Praise For…
---
"For a young lawyer, Brittany Barnett has a lot of war stories. In A Knock at Midnight, Barnett's engrossing memoir, most of the stories involve Black women who are casualties of the war on drugs. . . . [Barnett's] vignettes about the lives of women in the 'New Jim Crow' era are powerful and devastating."—The Washington Post

"A Knock at Midnight isn't your ordinary memoir. It carries the force of urgent action, and it calls attention to sentencing laws that must be read to be believed. Most important, it bears the toil and triumph of freedom hard won. That's a quality that readers will have a hard time taking for granted after reading these pages."—Houston Chronicle

"A Knock at Midnight is a book that is just right for this smoldering moment, a memoir that offers an irresistible invitation to examine the evolution and the impact of injustice in America."—Michele Norris, contributing columnist at The Washington Post and founding director of The Race Card Project

"With a penetrating honesty, Brittany K. Barnett masterfully unlocks the mysterious doors of the prison system, revealing a long tradition of racial injustice and inequality. In the spirit of great films like Ava DuVernay's 13th, A Knock at Midnight is both an educational tool and a call to action that will leave readers enlightened and inspired for years to come."—Shaka Senghor, author of Writing My Wrongs

". . . Brittany is a first-rate storyteller. With heartfelt clarity and conviction, she delivers a powerful story of courage and hope, along with a good dose of the messy truth about our nation's broken criminal justice system. America desperately needs stories just like this one."—Van Jones, CEO of REFORM Alliance, CNN Host, and New York Times bestselling author

"Brittany's passion, ambition, hard work, and commitment to excellence have produced an unparalleled record of success at a young age. I have been personally touched by her incredible dedication to advancing justice and her unwavering and selfless dedication to freedom."—Sean "Diddy" Combs

" A riveting memoir of injustice, resilience, and hope."—Booklist (starred review)

"A welcome new addition to . . . books about the critically flawed U.S. legal system . . . Considering her youthfulness, [Brittany] Barnett has accomplished more reform than most individuals could accomplish in two lifetimes."—Kirkus Reviews (starred review)

"This is an essential read for anyone seeking to understand the devastating effects of mandatory drug sentencing and looking for inspiration to seek change."—Library Journal (starred review)

"An engrossing legal drama complete with wrenching reversals and redemptions, this account richly humanizes defendants while incisively analyzing deep flaws in America's justice system."—Publishers Weekly (starred review)