Fighting Words (Hardcover)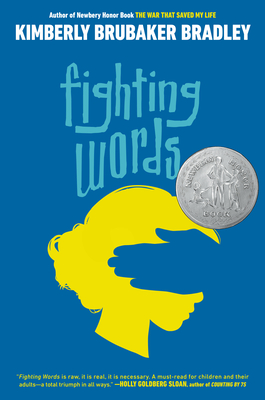 Staff Reviews
---
Ten-year-old Della has not had it easy. After her mom was arrested, she and her old sister Suki lived with their their mom's boyfriend Clifton. One day, Clifton does something terrible, and Della and Suki are forced to flee. They end up in foster care and both sisters have to adjust to their new lives as well as figure out their plans for the future. Della is caught up in her own struggles at school, so she doesn't even realize how deeply her sister is suffering until the day that Suki tries to take her own life. All of a sudden, Della's world is completely shaken, and in the aftermath she must decide how to confront horrible new truths and use her voice to stand up and speak out.
Fighting Words is a bold and stunning middle grade book that tackles the topic of child sexual abuse. I was extremely impressed and moved by Della's story, and I found her a compelling character who felt vivid and real. This book is so important because it sheds light on deeply traumatic experiences faced by so many children throughout the world, while also tackling seemingly minor aggressions like young boys touching girls without permission on the playground. This book demonstrates the longterm dangers of permitting these inappropriate behaviors, and teaches the importance of consent and not feeling ashamed to speak up when something is not okay. Highly recommended.
— Charis W.
Description
---
A candid and fierce middle grade novel about sisterhood and sexual abuse, by Newbery Honor winner and #1 New York Times best seller Kimberly Brubaker Bradley

"Fighting Words is raw, it is real, it is necessary, a must-read for children and their adults--a total triumph in all ways." --Holly Goldberg Sloan, New York Times bestselling author of Counting by 7s

Ten-tear-old Della has always had her older sister, Suki: When their mom went to prison, Della had Suki. When their mom's boyfriend took them in, Della had Suki. When that same boyfriend did something so awful they had to run fast, Della had Suki. Suki is Della's own wolf--her protector. But who has been protecting Suki? Della might get told off for swearing at school, but she has always known how to keep quiet where it counts. Then Suki tries to kill herself, and Della's world turns so far upside down, it feels like it's shaking her by the ankles. Maybe she's been quiet about the wrong things. Maybe it's time to be loud.

In this powerful novel that explodes the stigma around child sexual abuse and leavens an intense tale with compassion and humor, Kimberly Brubaker Bradley tells a story about two sisters, linked by love and trauma, who must find their own voices before they can find their way back to each other.

"One of the most important books ever written for kids."--Colby Sharp of Nerdy Book Club
"One for the history books....One of the best of the year."--Betsy Bird for A Fuse #8 Production/SLJ
"Gripping. Life-changing...I am awe-struck."--Donna Gephart, author of Lily and Dunkin
"Compassionate, truthful, and beautiful."--Elana K. Arnold, author of Damsel
"I am blown away. [This] may be Kimberly Brubaker Bradley's best work yet."--Barbara Dee, author of Maybe He Just Likes You
"A book that lets [kids] know they have never been alone. And never will be." --Kat Yeh, author of The Truth About Twinkie Pie
* "At once heartbreaking and hopeful."--Kirkus (starred review)
* "Honest [and] empowering...An important book for readers of all ages."--SLJ (starred review)
* "Sensitive[,] deft, and vivid."--BCCB (starred review)
* "Prepare to read furiously."--Booklist (starred review)
* "An essential, powerful mirror and window for any reader."--PW (starred review)
* "Unforgettable." --The Horn Book (starred review)
About the Author
---
Kimberly Brubaker Bradley lives on a forty-two-acre farm in Bristol, Tennessee. She is the author of several middle grade novels, including the widely acclaimed Jefferson's Sons and the New York Times bestsellers The War I Finally Won and The War That Saved My Life, the latter of which earned a Newbery Honor and a Schneider Award.
Praise For…
---
★ "Believable and immensely appealing, Suki, Francine, and especially Della light up [the] story . . . Readers will root for these sisters along every step of their daunting journey. Refusing to soft-pedal hard issues, the novel speaks with an astringent honesty, at once heartbreaking and hopeful." —Kirkus (starred review)

★ Perfectly balances pathos and humor [while] also showcasing the astonishing strength and resilience of children to confront, and eventually heal from, trauma and sexual abuse. . . . Unforgettable." —The Horn Book (starred review)

★ "Always an engaging and smooth writer, Bradley here unfurls a tale that initially recalls Paterson's classic Great Gilly Hopkins but then adds layers of complexity . . . It's a sensitive exploration of the way people can suffer in different ways and need different things, and characterization is deft and vivid . . . Stirring . . . Satisfying . . . Rewarding." —BCCB (starred review)

★ "Despite the horrors the sisters have endured, there is humor and warmth in this multifaceted, brave novel. Bradley creates fully developed, believable characters that readers will root for. . . . Raw and honest, this ultimately empowering novel is an important book for readers of all ages." —SLJ (starred review)

★ "This story, no PSA, is an honest slice of a difficult life—unvarnished, painful, and raw, [and] Della is a powerhouse of a protagonist . . . Prepare to read furiously." —Booklist (starred review) 

★ "Della's tough, straightforward narration pulls no punches as she learns the power of using her 'big mouth' and inspires others to tell their stories when and how they are able. Sharp characterizations by Newbery Honoree Brubaker Bradley create an essential, powerful mirror and window for any reader." —Publishers Weekly (starred review)

"Gripping. Life-changing. Essential. Fighting Words is a testament to the power we have when we stand up, speak up, and stick together. Kimberly Brubaker Bradley's talent is extraordinary. I am awe-struck." —Donna Gephart, award-winning author of Lily and Dunkin

"It will go down as one of the best books, one of the most important books, ever written for kids." —Colby Sharp of Nerdy Book Club

"The remarkable thing about this book is how infinitely enjoyable it is, in spite of some of the terrible and terrifying content. I picked it up and simply found myself unable to put it down. The VOICE on its 10-year-old narrator Della is one for the history books. One of the best of the year." —Betsy Bird for A Fuse #8 Production/SLJ 
 
"Rather than shielding her readers, Kimberly Brubaker Bradley arms them with Fighting Words, a compassionate, truthful, and beautiful story about the trauma of sexual abuse and the remarkable power of sisterhood." —Elana K. Arnold, Printz Honor-winning author of Damsel
 
"I am blown away. This is a powerful, necessary book about a difficult subject, written with honesty, tenderness, and consummate craft. Della's story will burrow deep into your heart. Fighting Words may be Kimberly Brubaker Bradley's best work yet." —Barbara Dee, award-winning author of Maybe He Just Likes You

"I wish all children were lucky enough that the first time they encountered dark and difficult things, it was not through a swift and sudden rift in their real lives, but within the safe pages of a story. This beautiful, heartbreaking, and hopeful book is a place where readers can build strength and resilience, page by page, with the gift of opening, closing, and discussing in their own time and at their own pace. And for those who have, till now, felt alone in their hurtful past, this is a book that lets them know they have never been alone. And never will be." —Kat Yeh, award-winning author of The Truth About Twinkie Pie

"Absolutely magnificent. The voice on this girl—I cannot get Della out of my head or my heart. Fighting Words is raw, it is real, it is necessary, a must-read for children and their adults—a total triumph in all ways." —Holly Goldberg Sloan, New York Times bestselling author of Counting by 7s