The Bromance Book Club (Paperback)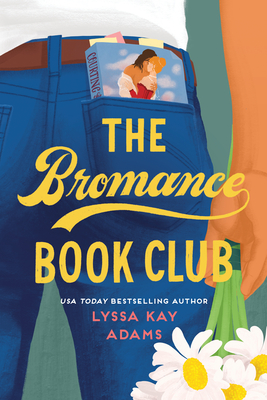 Other Books in Series
This is book number 1 in the Bromance Book Club series.
Staff Reviews
---
Baseball star Gavin Scott thought he had the perfect family until his wife Thea suddenly asks for a divorce. He turns to his friends for help and learns about the Bromance Book Club, a secret group of athletes and businessmen who read romance novels for relationship tips. By turns funny and tender, this novel takes a look at what happens in a marriage after the Happy Ever After. A winner!
— Cathy
Description
---
The first rule of book club: You don't talk about book club.

Nashville Legends second baseman Gavin Scott's marriage is in major league trouble. He's recently discovered a humiliating secret: his wife Thea has always faked the Big O. When he loses his cool at the revelation, it's the final straw on their already strained relationship. Thea asks for a divorce, and Gavin realizes he's let his pride and fear get the better of him. 

Welcome to the Bromance Book Club.

Distraught and desperate, Gavin finds help from an unlikely source: a secret romance book club made up of Nashville's top alpha men. With the help of their current read, a steamy Regency titled Courting the Countess, the guys coach Gavin on saving his marriage. But it'll take a lot more than flowery words and grand gestures for this hapless Romeo to find his inner hero and win back the trust of his wife.
About the Author
---
Lyssa Kay Adams read her first romance novel at way too young of an age when she swiped one from her grandmother's stash. After a long journalism career in which she had to write way too many sad endings, she decided to return to the stories that guaranteed a happy ever after. Once described as "funny, adorable, and a wee-bit heartbreaking," Lyssa's books feature women who always get the last word, men who aren't afraid to cry, and dogs. Lots of dogs. Lyssa writes full time from her home in Michigan, where she lives with her sports writer husband, her wickedly funny daughter, and a spoiled Maltese who likes to be rocked to sleep like a baby. When she's not writing, she's cooking or driving her daughter around from one sporting event to the next. Or rocking the dog.
Praise For…
---
One of Bustle's "21 New Rom-Coms Out in Fall 2019 To Give You Warm And Fuzzy Feelings All Season Long"

"This is a lovely and sweet story, an honest and hopeful portrayal of the hard work of marriage."—New York Times Book Review

"Lyssa Kay Adams hits a home run when it comes to the most inventive, refreshing concept in rom-coms this year."—Entertainment Weekly  

"Sweet and funny and emotional. I zoomed through this one Sunday, totally compelled by the romance (and the bromance!). I'm so looking forward to seeing more of this book club."—Nalini Singh, New York Times bestselling author

"The Bromance Book Club is a you're-gonna-burn-dinner book because you will not want to put it down. Laugh out loud with tons of heart, this is an absolutely adorable must read."—Avery Flynn, USA Today and Wall Street Journal bestselling author 

"The Bromance Book Club is a delight! Even though Gavin is nothing less than swoon worthy, it was Adams' heroine that stole the show. With her perfect imperfections, she made me feel seen as a wife, mom, and woman. I raced to finish this book, but still never wanted it to end!"—Alexa Martin, author of Intercepted

"A delightful, fast-paced read with the perfect mix of laugh-out-loud and swoony moments–every town should have a Bromance Book Club."—Evie Dunmore, author of Bringing Down the Duke

"With its quintessentially American setting, The Bromance Book Club is a funny, bittersweet unfurling of what it means to be married; what it means to be a sister, and a daughter and a reader... Shows that everything worth knowing—can be learned from romance."—kc dyer, author of Finding Fraser

"Adams weaves in humor, complex emotions, and excerpts from the motivational story itself to create a satisfying courtship. A strong supporting cast, including Gavin's book clubmates and his tiny, adorable twin daughters, helps flesh out the Legends community."—Publishers Weekly

"A fun, sexy, and heartfelt love story that's equal parts romance and bromance."—Kirkus Reviews

"Readers will look forward to more books in the Bromance Book Club series after this promising start."—Booklist