Eliza and Her Monsters Lib/E (Compact Disc)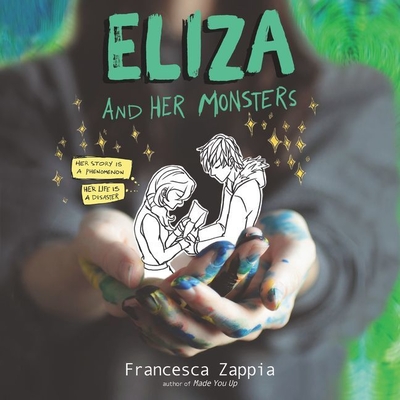 Staff Reviews
---
Eliza Mirk is a socially awkward, highly introverted high school senior. She is also LadyConstellation, the anonymous, hugely internet-famous creator of a web comic called Monstrous Sea. Eliza is content with living her days at home, only recognized for her work online. Then she is circumstantially forced to befriend Wallace, a new student and raving Monstrous Sea fan. She wants to tell him who she is, but as the lies begin to stack up, she finds it easier to pretend to be just another fan. But what happens when a mistake is made and Eliza's identity is revealed not just to Wallace, but to the whole world? This is a wonderful contemporary story of social anxiety, "internet friends" versus "real friends," and finding the group you were meant to be with.
— Madeline
Description
---
"A love letter to fandom, friendship, and the stories that shape us, Eliza and Her Monsters is absolutely magical."--Marieke Nijkamp, New York Times-bestselling author of This Is Where It Ends
Eighteen-year-old Eliza Mirk is the anonymous creator of the wildly popular webcomic Monstrous Sea, but when a new boy at school tempts her to live a life offline, everything she's worked for begins to crumble.
Rainbow Rowell's Fangirl meets Noelle Stevenson's Nimona in this acclaimed novel about art, fandom, and finding the courage to be yourself. "A must-have."--School Library Journal
In the real world, Eliza Mirk is shy, weird, and friendless. Online, Eliza is LadyConstellation, anonymous creator of a popular webcomic called Monstrous Sea. With millions of followers and fans throughout the world, Eliza's persona is popular. Eliza can't imagine enjoying the real world as much as she loves her digital community.
Then Wallace Warland transfers to her school and Eliza begins to wonder if a life offline might be worthwhile. But when Eliza's secret is accidentally shared with the world, everything she's built--her story, her relationship with Wallace, and even her sanity--begins to fall apart.
Will appeal to fans of Noelle Stevenson's Nimona and Rainbow Rowell's Fangirl.
Young Adult Library Services Association Best Book
Best Fiction for Young Adults Top Ten
Kirkus Best Book
Texas Tayshas Pick