The Fortunes of Jaded Women: A Novel (Hardcover)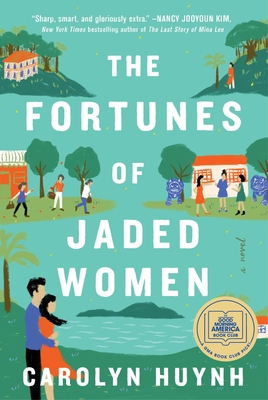 $27.00

Usually Ships in 4-7 Days
September 2022 Indie Next List
---
"A story about the pushes and pulls of first-generation Americans, of grandmothers, mothers, sisters, and daughters. There is love, accomplishment, community, and it's laugh out loud funny. Give yourself the gift of reading this book."
— Holly Hendricks, Sunriver Books & Music, Sunriver, OR
Description
---
A GOOD MORNING AMERICA BOOK CLUB PICK
A WASHINGTON POST BEST FEEL-GOOD BOOK OF THE YEAR

For fans of Amy Tan, KJ Dell'Antonia, and Kevin Kwan, this "sharp, smart, and gloriously extra" (Nancy Jooyoun Kim, author of The Last Story of Mina Lee) debut celebrates a family of estranged Vietnamese women who experiences mishaps and unexpected joy after a psychic makes a startling prediction about their lives.

Everyone in Orange County's Little Saigon knew that the Duong sisters were cursed.

It started with their ancestor, Oanh, who dared to leave her marriage for true love—so a fearsome Vietnamese witch cursed Oanh and her descendants so that they would never find love or happiness, and the Duong women would give birth to daughters, never sons.​

Oanh's current descendant Mai Nguyen knows this curse well. She's divorced, and after an explosive disagreement a decade ago, she's estranged from her younger sisters, Minh Pham (the middle and the mediator) and Khuyen Lam (the youngest who swears she just runs humble coffee shops and nail salons, not Little Saigon's underground). Though Mai's three adult daughters, Priscilla, Thuy, and Thao, are successful in their careers (one of them is John Cho's dermatologist!), the same can't be said for their love lives. Mai is convinced they might drive her to an early grave.

Desperate for guidance, she consults Auntie Hua, her trusted psychic in Hawaii, who delivers an unexpected prediction: this year, her family will witness a marriage, a funeral, and the birth of a son. This prophecy will reunite estranged mothers, daughters, aunts, and cousins—for better or for worse.

A multi-narrative novel brimming with levity and candor, The Fortunes of Jaded Women is about mourning, meddling, celebrating, and healing together as a family. It shows how Vietnamese women emerge victorious, even if the world is against them.
About the Author
---
Carolyn Huynh grew up in Orange County, California, not appreciating the weather enough. She has a BA in journalism from Seattle University and an MS in human centered design from the University of Washington. The youngest daughter of Vietnamese refugees, her writing focuses on her mother's tall tales, superstitions, the diaspora, and memory (both real and imaginary). She especially loves stories about messy Asian women who never learn from their mistakes. After living up and down the West Coast, she currently resides in Los Angeles with her rabbit and dog. She still doesn't appreciate the weather enough. When she's not writing, Carolyn daydreams about having iced coffee on a rooftop in Saigon. Follow her on Twitter @CarolynKHuynh.
Praise For…
---
"A war bubbles at the core of The Fortunes of Jaded Women, but perhaps not the one you'd expect. Rather than retreading the conflict that has been the focus of most Vietnam-centric literature for the past 70 years, Vietnamese American author Carolyn Huynh offers up a refreshingly buoyant and irreverent debut novel about a fiery group of estranged mothers and daughters. . . . Fantastical elements and an abundance of sis­terly squabbles and scandals keep things juicy and bring plenty of laughs, but the characters are the real stars of the show. Each woman is joyfully rendered and fully developed, offering a welcome contrast to cliched depictions of meek and docile Asian women, and a powerful subver­sion of monolithic depictions of a people who have for too long been solely defined by tragedy. The Duong women have fire in their bellies, desire in their hearts and the grit needed to overcome any obstacle. The Fortunes of Jaded Women will certainly appeal to fans of over-the-top excess à la Kevin Kwan's Crazy Rich Asians, but readers who love rich explorations of thorny mother-daughter relationships and the ways we weather."
— Stephenie Harrison

"Huynh pulls off an admirable portrait of well-meaning mothers and their children. . . . Worth checking out."
— Publishers Weekly

"You can always count me in for a story about generations of cursed women, but I was surprised—and thoroughly delighted—to discover how much I would laugh out loud at the exploits of these mothers, daughters, and sisters. Carolyn Huynh's The Fortunes of Jaded Women is a terrific debut. I'm eager to read more from her."
— Lisa See, the New York Times bestselling author of The Tea Girl of Hummingbird Lane

"Huynh's debut novel explores the dynamics of a stubborn Vietnamese American family with humor and tenderness, ultimately showing how the women slowly find healing, love, and happiness together."
— Booklist

"Written with crackling humor and a shrewd, intimate understanding of Vietnamese American family life, the book is full of tart, broad comedy and farcical setups. . . . A funny, sharp, and insightful look at family bonds and the effects of tradition on modern life. . . .You will laugh along with the Duongs, but you'll also find yourself cheering for their reconciliation."
— Kirkus Reviews

"Sharp, smart, and gloriously extra, The Fortunes of Jaded Women pays homage to the counterfeit-Louis-Vuitton queens of the Vietnamese diaspora and West Coast witches everywhere. I laughed out loud at the familiar stubbornness, the high- and low-stakes cutthroatedness of these complex and lovable mothers and daughters."
— Nancy Jooyoun Kim, the New York Times bestselling author of The Last Story of Mina Lee

"Clever, hilarious, and deliciously dramatic. In this knockout debut, Huynh weaves a tangled, multigenerational story between fierce, stubborn Vietnamese mothers and their estranged daughters that is equally wild and heartfelt. It beautifully captures how far mothers would go to create a better life for their daughters and reconnect with them when their efforts go awry. Unlike their fake designer purses, this book is the real deal."
— Julie Tieu, author of The Donut Trap

"Mixing superstition, family drama, and a cast of unforgettable characters, Carolyn Huynh works magic in her debut. The Fortunes of Jaded Women is nothing short of a modern Shakespearean comedy of errors that perfectly depicts the intricate relationship between parents and their children. I can't wait for the world to meet the Duong family!"
— Eric Nguyen, author of Things We Lost to the Water

"Superstition, sibling rivalry, well-meaning mothers who meddle in the lives of their daughters—who then grow up to be well-meaning mothers who meddle in the lives of their daughters. The Fortunes of Jaded Women pulls off the magic trick of being a heartfelt, multi-generational epic as well as a fast-paced, hilarious romp. It is your good fortune to have this novel in your hands."
— Camille Perri, acclaimed author of The Assistants and When Katie Met Cassidy

"A delightful, drama-filled page turner, The Fortunes of Jaded Women tosses readers into the deep end of stubborn, ambitious Vietnamese women and their desire to create a better life for their daughters. Start swimming readers because you're in for an unforgettable lap around the complex world of Vietnamese Americans."
— Thien-Kim Lam, author of Happy Endings