The Sweet Spot: A Novel (Paperback)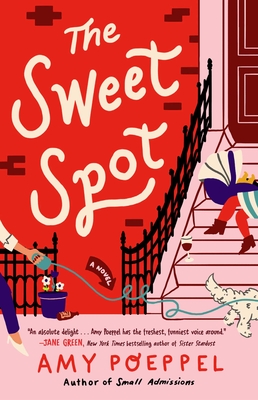 Staff Reviews
---
I loved this book!!! It made me laugh to read about the quirky characters living their individual lives in NYC's village neighborhood, causing mayhem, laughter, tears, but most of all friendship. Some might think this is a romance book, but it is more of a story of modern family and the support they give to one another. Lauren and Leo are the nucleus, living in a "bohemian brownstone" that has been loaned to them by Leo's biological father, Phillip. Lauren is on her way to becoming a household name with her pottery featured in Felicity's trendy boutique shops and TV show. The problem is, who will take care of her kids and manage the new private school life so she can work? At the same time, Melinda's husband of 30-plus years wants a divorce because he has met someone else. She goes off the rails and loses her job. Olivia works for Felicity in the trendy boutique store until she goes off on a shopper and goes viral. These women's lives intersect and the story truly begins. But let's not forget Lauren's not-so-accepting mom who comes to help with the kids… the humor is perfect! Throw in a dog, a baby that is "left" by selfish parents, a local bar, and unlikely friendships and romance. 
— Christina
Description
---
Amy Poeppel brings her signature "big-hearted, charming" (The Washington Post) style to this wise and joyful novel that celebrates love, hate, and all of the glorious absurdity in between.

In the heart of Greenwich Village, three women form an accidental sorority when a baby—belonging to exactly none of them—lands on their collective doorstep.

Lauren and her family—lucky bastards—have been granted the use of a spectacular brownstone, teeming with history and dizzyingly unattractive 70s wallpaper. Adding to the home's bohemian, grungy splendor is the bar occupying the basement, a (mostly) beloved dive called The Sweet Spot. Within days of moving in, Lauren discovers that she has already made an enemy in the neighborhood by inadvertently sparking the divorce of a couple she has never actually met.

Melinda's husband of thirty years has dumped her for a young celebrity entrepreneur named Felicity, and, to Melinda's horror, the lovebirds are soon to become parents. In her incandescent rage, Melinda wreaks havoc wherever she can, including in Felicity's Soho boutique, where she has a fit of epic proportions, which happens to be caught on film.​

Olivia—the industrious twenty-something behind the counter, who has big dreams and bigger debt—gets caught in the crossfire. In an effort to diffuse Melinda's temper, Olivia has a tantrum of her own and gets unceremoniously canned, thanks to TikTok.

When Melinda's ex follows his lover across the country, leaving their squalling baby behind, the three women rise to the occasion in order to forgive, to forget, to Ferberize, and to track down the wayward parents. But can their little village find a way toward the happily ever afters they all desire? Welcome to The Sweet Spot.
About the Author
---
Amy Poeppel is the award-winning author of the novels The Sweet Spot, Musical Chairs, Limelight, and Small Admissions. Her writing has appeared in The New York Times, The Rumpus, Literary Hub, and Working Mother. She and her husband have three sons and split their time between New York City, Germany, and Connecticut. She would love to hear from you on Twitter or Instagram: @AmyPoeppel or at AmyPoeppel.com.
Praise For…
---
"Absolutely hilarious . . . THE SWEET SPOT is a celebration of the ways we find community when we need it most."
— Real Simple

"The versatile and gifted Amy Poeppel has written a love letter to family, friendship and Greenwich Village. When baby Horatio arrives unexpectedly, Lauren, Melinda and Olivia who have little in common, unite to care for him, redefining the notion of community and the meaning of family. The twists and turns will delight readers. A smart, crisp, funny page turner. Book clubs will rejoice!"
— Adriana Trigiani, author of THE GOOD LEFT UNDONE

"With sly humor and sharp understanding, Amy Poeppel hits The Sweet Spot in this funny, twisty, goodhearted novel about families lost, found, and made."
— Virginia Kantra, New York Times bestselling author of MEG & JO and BETH & AMY 

"Unabashedly warm-hearted and fun, THE SWEET SPOT serves up a fresh story about the chaos of family, flavored with classic components of the most entertaining dramedies: a charming New York setting, endearing core characters, and a hilarious supporting cast that often steals the show. Irresistible!"
— Mary Laura Philpott, author of BOMB SHELTER: LOVE, TIME, and OTHER EXPLOSIVES

"THE SWEET SPOT is an absolute delight. With its quirky characters, humor, and lovely writing, it is my favorite book of late. Amy Poeppel has the freshest, funniest voice around."
— Jane Green, New York Times bestselling author of SISTER STARDUST

"What a big-hearted charmer this delightful book is! What a refuge the brilliant and talented Aston family and their circle of eccentric friends have created! THE SWEET SPOT is exactly the kind of novel I love the best and am always on the lookout for. Pure joy!"
— Julia Claiborne Johnson, author of BETTER LUCK NEXT TIME

"THE SWEET SPOT is warm, witty, and big-hearted. I loved spending time in a Waverly Place brownstone with Lauren, a ceramic artist, and the women and men in her orbit as they each wrestled with work, family, and the price of love."
— Amanda Eyre Ward, New York Times bestselling author of THE LIFEGUARDS

"THE SWEET SPOT sparkles with Amy Poeppel's signature wit and warmth. This genuinely uproarious novel celebrates families - born and made - in all their messy glory. It's so much fun, you'll wish you could pull up a chair at the kitchen table and stay forever. (Though you might need to remove a feral gerbil from that chair first.)"
— Laura Hankin, author of A SPECIAL PLACE FOR WOMEN

"If Leo Tolstoy and David Sedaris ever had a chance to get together to write a novel, they might have come up with THE SWEET SPOT. It is at once intricate and laugh-out-loud funny, with characters who are drawn with such attention to detail that they feel like old friends. Filled with hope and redemption, I think it's safe to say that THE SWEET SPOT is a masterpiece."
— Annabel Monaghan, author of NORA GOES OFF SCRIPT

"Amy Poeppel has written a generous, funny, big-hearted book, and she's pulled off a miracle while doing it: she's brought us characters that feel absolutely real, with their flaws, their pesky human foibles, and their undying need for each other. THE SWEET SPOT is a story of love and family, filled with complications, twists and turns, brilliant art, delightful children, fantastic old people, and Greenwich Village. I couldn't put this book down, even for sleep. Even for tea! And now I want to read it all over again."
— Maddie Dawson, Washington Post bestselling author of MATCHMAKING FOR BEGINNERS