The Invisible Hour: A Novel (Hardcover)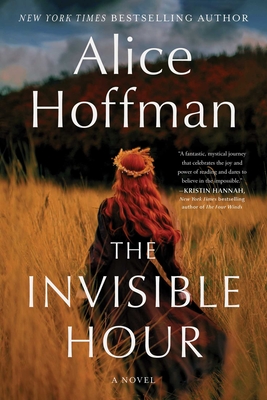 $27.99

Usually Ships in 4-7 Days
Staff Reviews
---
Mia is a young girl who was born to an unwed mother and raised in an autocratic cultish community in Western Massachusetts. Encouraged by her mother, Mia started reading books on the sly. One of the books she discovered on one of her secret trips to the town library was a first edition of The Scarlet Letter, which had an inscription to "Mia" by the author. Facing punishment for reading, Mia decided to run away from the community and was taken in by two librarians. Several years later, Mia, who has a job at the New York Public Library, is mysteriously transported to 1830s Salem, where she goes looking for Nathaniel Hawthorne, at the time a not-very-well-known author. When they meet, romantic sparks fly, but Mia realizes she can't interfere with the past, though she tells him the story of her mother and herself, which becomes the inspiration for the book Hawthorne will publish in 1850 to great acclaim. 
— Alice
August 2023 Indie Next List
---
"Alice Hoffman has outdone herself with this book. It's a love letter to readers and book lovers everywhere. I wanted to race though this book because the story is so compelling, but I made myself savor every word. This one has my heart."
— Karen Schwettman, FoxTale Book Shoppe, Woodstock, GA
Description
---
From the beloved New York Times bestselling author of The Marriage of Opposites and the Practical Magic series comes an enchanting novel about love, heartbreak, self-discovery, and the enduring magic of books.

One brilliant June day when Mia Jacob can no longer see a way to survive, the power of words saves her. The Scarlet Letter was written almost two hundred years earlier, but it seems to tell the story of Mia's mother, Ivy, and their life inside the Community—an oppressive cult in western Massachusetts where contact with the outside world is forbidden, and books are considered evil. But how could this be? How could Nathaniel Hawthorne have so perfectly captured the pain and loss that Mia carries inside her?

Through a journey of heartbreak, love, and time, Mia must abandon the rules she was raised with at the Community. As she does, she realizes that reading can transport you to other worlds or bring them to you, and that readers and writers affect one another in mysterious ways. She learns that time is more fluid than she can imagine, and that love is stronger than any chains that bind you.

As a girl Mia fell in love with a book. Now as a young woman she falls in love with a brilliant writer as she makes her way back in time. But what if Nathaniel Hawthorne never wrote The Scarlet Letter? And what if Mia Jacob never found it on the day she planned to die?

Nathaniel Hawthorne wrote: "A single dream is more powerful than a thousand realities."

This is the story of one woman's dream. For a little while it came true.
About the Author
---
Alice Hoffman is the author of more than thirty works of fiction, including The Book of Magic, Magic Lessons, The World That We Knew, Practical Magic, The Rules of Magic (a Reese Witherspoon Book Club Pick), the Oprah's Book Club Selection Here on Earth, The Red Garden, The Dovekeepers, The Museum of Extraordinary Things, The Marriage of Opposites, and Faithful. She lives near Boston.
Praise For…
---
"I was immediately immersed in The Invisible Hour. It's a wonderful story of love and growth, but it's also a narrative engine of great power. Alice Hoffman is wonderful on stories and writing."

-- Stephen King, New York Times bestselling author of FAIRYTALE

What a thrill to discover Nathaniel Hawthorne in the pages of Alice Hoffman's exquisite new novel, The Invisible Hour! And what delight to experience the melding, across the centuries, of two prodigious American literary imaginations—Hoffman's and Hawthorne's—in this redemptive tale of daughters and mothers and one true love for a man and his book.

Megan Marshall, Pulitzer Prize-winning author of The Peabody Sisters, Margaret Fuller: A New American Life, and Elizabeth Bishop: A Miracle for Breakfast

"Alice Hoffman's The Invisible Hour is a rich, immersive, magical reading experience. This beautiful novel is about the stories women tell each other and the ones that save us, about the price and peril of motherhood, and the difficulties women have faced throughout history in controlling their own fates. Alice Hoffman, the reigning queen of magical realism, takes her readers on a fantastic, mystical journey that celebrates the joy and power of reading and dares to believe in the impossible."

—Kristin Hannah, New York Times bestselling author of The Four Winds

"The incomparable Alice Hoffman has written a transcendent novel that will stay with you all of your reading life. Ivy Jacob is broken beyond repair when she enters a community without books. Soon, her daughter Mia is born into the same world, her fate is also sealed, until the girl steals away and finds respite in a forbidden library. As Mia reads, she disappears into the story as readers do and finds herself there, in a place and time that will unlock her destiny. The Invisible Hour is an inventive yet practical fairytale where the prince is Nathaniel Hawthorne, freedom is love andbooks are our salvation. And frankly, when that book is written by Alice Hoffman, we be truly redeemed."

—Adriana Trigiani, New York Times bestselling author of The Good Left Undone