The Half Moon: A Novel (Hardcover)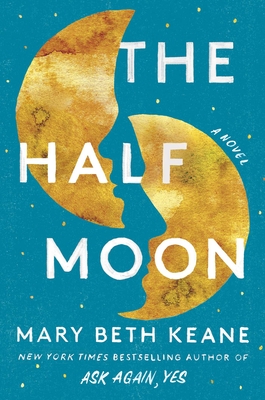 Staff Reviews
---
Malcolm owns a bar down on its luck in Gillam, NY. He loves the people, the camaraderie, and the sense of home. At the beginning of the novel, his wife Jess has left him. She has her own struggles — infertility, being passed over as partner at her law firm, and mostly her attraction to a new man in town. When back-to-back snowstorms hit the town, many stories are introduced: the previous owner of the bar with his henchmen; the possible faked death of a local businessman; and Malcolm's relationship with his mother. It's a slow burn with lots of discovery. No one's life is perfect. Keane wants us to understand the messiness of human life. She is the master of showing us the everyday heartbreak and love we find.
— Valerie
May 2023 Indie Next List
---
"Keane's latest novel explores marriage, middle age, and dreams lost and gained. What happens when we get what we want? What happens when we don't? A brilliant exploration on long-term relationships and how they evolve over time."
— Stephanie Kitchen, City Lit Books, Chicago, IL
Description
---
Named a Most Anticipated Book of the Year by Vogue, Entertainment Weekly, BookPage, LitHub and more

"I adored this compelling, touching, exquisitely crafted story about a marriage in crisis." —Liane Moriarty, New York Times bestselling author of Big Little Lies

From the bestselling author of Ask Again, Yes, a masterful novel about a couple in a small town who must navigate the complexities of marriage, family, and longing.

Malcolm Gephardt, handsome and gregarious longtime bartender at the Half Moon, has always dreamed of owning a bar. When his boss finally retires, Malcolm stretches to buy the place. He sees unquantifiable magic and potential in the Half Moon and hopes to transform it into a bigger success, but struggles to stay afloat.

His smart and confident wife, Jess, has devoted herself to her law career. After years of trying for a baby, she is facing the idea that motherhood may not be in the cards for her. Like Malcolm, she feels her youth beginning to slip away and wonders how to reshape her future.

Award-winning author Mary Beth Keane's new novel takes place over the course of one week when Malcolm learns shocking news about Jess, a patron of the bar goes missing, and a blizzard hits the town of Gillam, trapping everyone in place. With a deft eye and generous spirit, Keane explores the disappointments and unexpected consolations of midlife, the many forms forgiveness can take, the complicated intimacy of small-town living, and what it means to be a family.
About the Author
---
Mary Beth Keane attended Barnard College and the University of Virginia, where she received an MFA. She was awarded a John S. Guggenheim fellowship for fiction writing, and has received citations from the National Book Foundation, PEN America, and the Hemingway Society. She is the author of The Walking People, Fever, and Ask Again, Yes—a New York Times bestseller and a Tonight Show Starring Jimmy Fallon Summer Reads Pick. Ask Again, Yes has been sold in twenty-two languages. She lives in New York with her family.
Praise For…
---
"Absorbing . . . it's such a pleasure to sink into Keane's quietly luminous prose . . . She manages to find the extraordinary grace in our achingly ordinary world." —Janice Y.K. Lee, The New York Times Book Review

"Poignant . . . class differences underlie personal strife as the couple struggles with adultery, fertility and civility." —Bethanne Patrick, The Los Angeles Times

"Deft, satisfying. . . . Keane writes in a realist vein–the vivid, domesticated world of Anne Tyler, of William Trevor, of Elizabeth Strout—but her insights into matters of the heart, longing and restlessness especially, have astonishing delicacy." —Vogue, Most Anticipated Books of 2023

"An insightful, riveting study of marriage." —People

"Keane's prose is luminous and controlled, brimming with insights into her nuanced characters . . . a gripping read with an unexpected and satisfying resolution." —The Minneapolis Star Tribune

"A tale of midlife musings on second chances." —TIME

"Once again, Keane mines the family strife and secrecy that made her absorbing Ask Again, Yes one of the bigger book-club breakouts of the last several years. Here, a full marriage story is compressed within the span of a single week as charming, gregarious bartender Malcolm and his conscientious lawyer wife Jess confront the longtime fissures in their union and the many dreams deferred." —Entertainment Weekly

"I adored this compelling, touching, exquisitely crafted story about a marriage in crisis." —Liane Moriarty, New York Times bestselling author of Big Little Lies

"A quick and impactful read that will stay with you long after you finish it." —The Skimm

"Keane explores the sacrifices of a marriage, setting Malcolm's impulsive deal to buy the bar he loved against Jess's consuming dream of parenthood. . . . The tension is undeniable and deeply compelling . . . with an unexpected twist, Keane's charming, tautly-paced, and introspective novel will delight." —Booklist (starred review)

"Mary Beth Keane writes to the heart of the human heart. She shows us how love can deepen, how love can stall—hang in the sky like a half moon, waxing and waning in the same moment, equal parts shadow and light. I could not put this book down." —Miranda Cowley-Heller, author of The Paper Palace

"One of our finest writers on the interior complexities of marriage and family shines a flashlight on the intricate clockwork of love and longing that runs inside us. Because of the thoughtfulness of that examination, beauty and possibility are visible. I ran my finger over sentences while reading, thinking: 'Yes, exactly.' This kind of fiction allows us to look around our own lives with respect and kindness and is therefore a great gift." —Ann Napolitano, author of Dear Edward and Hello Beautiful

"The Half Moon is one of those rare novels that feels simultaneously classic and contemporary. Mary Beth Keane writes with exquisite detail about a marriage and a hometown, and accomplishes something remarkable: she makes you care about every character and see their point of view. The Half Moon is about the choices we make in who we love and how we love and when we need to come to terms with the past. I could not stop reading." —Vendela Vida, author of We Run the Tides

"A quietly marvelous story of dreams, disappointments and second chances, but, mostly, love." —Charmaine Wilkerson, author of Black Cake

"Did you love Ask Again, Yes? Then you'll eat up this one, which is set in the same fictional town but tells an even more intimate family story, offering a close-up look at a long marriage tested by time and unrequited dreams." —Mary Laura Philpott, author of I Miss You When I Blink

"I fell in love with The Half Moon from the first page, and barely looked up until I'd finished. Mary Beth Keane has written another brilliantly absorbing novel about complicated marriages and family dynamics—how they shape us, yes, but how they undo us as well. Prepare to lose yourself in this book." —Sara Collins, author of The Confessions of Frannie Langton

"The Half Moon is a masterful novel that tells with great tenderness how love goes wrong and how, with hope, it can be righted. Mary Beth Keane is an unnervingly talented novelist—dead-on brilliant, authentic, full of humor, and possessing a dark and comforting wisdom. The Half Moon is a triumph." —Adrienne Brodeur, author of Wild Game