Yellow Wife: A Novel (Hardcover)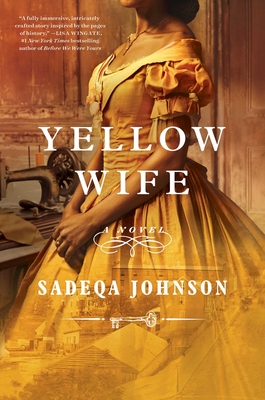 Staff Reviews
---
Born a plantation slave in Virginia but promised freedom by her 18th birthday, Pheby, the daughter to a medicine woman, lives her younger years somewhat sheltered from the harshest treatment of slavery. Personally, she is educated and has had privileges since her mom is a favorite of the master of the plantation. Upon the untimely death of Pheby's mom and the master, her reality crashes to halt. After standing up to the owner's wife, she is cruelly sent to a slave jailer at the infamous Devil's Half Acre. At this horrid place, Pheby being spared the fate of being sold to the highest bidder; instead, is forced to become the "wife" of the jail's master. Because of her beauty and lighter toned skin, she earns certain freedoms; yet, the outward treatments are a front for the brutal reality of forced degradation she must endure. One of Pheby's main jobs, aside from parenting the children she and the horrid jailer have, is to dress the girl slaves that are to be sold. Secretly, Pheby uses these brief moments to record the girl's family histories and tries to tell each that you are always free in your mind. This lesson of self-preservation resonates throughout the book as she witnesses and endures great misery and pain. Pheby is both broken and elegant. This captivating, historical novel shudders with intensity.
— Liz
Description
---
"A fully immersive, intricately crafted story inspired by the pages of history. In Pheby, Sadeqa Johnson has created a woman whose struggle to survive and to protect the ones she loves will have readers turning the pages as fast as their fingers can fly. Simply enthralling." —Lisa Wingate, #1 New York Times bestselling author of Before We Were Yours

Called "wholly engrossing" by New York Times bestselling author Kathleen Grissom, this harrowing story follows an enslaved woman forced to barter love and freedom while living in the most infamous slave jail in Virginia.

Born on a plantation in Charles City, Virginia, Pheby Delores Brown has lived a relatively sheltered life. Shielded by her mother's position as the estate's medicine woman and cherished by the Master's sister, she is set apart from the others on the plantation, belonging to neither world.

She'd been promised freedom on her eighteenth birthday, but instead of the idyllic life she imagined with her true love, Essex Henry, Pheby is forced to leave the only home she has ever known. She unexpectedly finds herself thrust into the bowels of slavery at the infamous Devil's Half Acre, a jail in Richmond, Virginia, where the enslaved are broken, tortured, and sold every day. There, Pheby is exposed not just to her Jailer's cruelty but also to his contradictions. To survive, Pheby will have to outwit him, and she soon faces the ultimate sacrifice.
About the Author
---
Sadeqa Johnson is the award-winning author of four novels. Her accolades include the National Book Club Award, the Phillis Wheatley Book Award, and the USA Best Book Award for Best Fiction. She is a Kimbilio Fellow, former board member of the James River Writers, and a Tall Poppy Writer. Originally from Philadelphia, she currently lives near Richmond, Virginia, with her husband and three children. To learn more, visit SadeqaJohnson.net.


Praise For…
---
*An O, the Oprah Magazine and SheReads, Most Anticipated Historical Fiction Books of 2021 Pick,
*A PARADE and BuzzFeed Books We Love Pick

"Seldom do I get to enjoy a novel so wholly engrossing, so exquisitely researched, so timely. Sadeqa Johnson has brought a fresh telling to a story we think we already know, making it beautifully relatable and human. Riveting and suspenseful, I highly recommend this novel."--Kathleen Grissom New York Times Best selling author of Glory Over Everything and The Kitchen House

"A challenging read but beautifully told... Yellow Wife doesn't pull any punches in telling its story about this painful period in American history. However, with a central character who is more than up to the task, this thought-provoking, well-paced tale brims with heart and intelligence."--NPR

"As Americans continue to deal with issues of race today, "Yellow Wife" is the perfect book to help the country see, in part, how it got here."--Christian Science Monitor

"Yellow Wife is a heartbreaking stunner of a book. Johnson deftly creates a cast of characters based on real historical figures and events that transport the reader to the horrors of the slave trade of the pre-war South. Exquisitely researched and richly crafted. I was utterly riveted." -- Aimie K. Runyan, internationally bestselling author of Daughters of the Night Sky and Across the Winding River

"A fully immersive, intricately crafted story inspired by the pages of history. In Pheby, Sadeqa Johnson has created a woman whose struggle to survive and to protect the ones she loves will have readers turning the pages as fast as their fingers can fly. Simply enthralling." – Lisa Wingate, #1 New York Times Bestselling Author of Before We Were Yours and The Book of Lost Friends.

"Yellow Wife by Sadeqa Johnson is a page-turner of a novel that is utterly transporting. Johnson's rich historical detail and enchanting prose sucked me into another world from the very first page. The book is a reminder that the inner lives of black women are as complicated as they are fascinating and make for some of the most affecting literature in American history. I loved it." -Attica Locke, author of Bluebird, Bluebird

"Johnson is unsparing in her depiction of the physical, psychological, and spiritual damages wrought by slavery and realistic in her portrayal of the heroism of Pheby and others in resisting it — they cannot change the world, but they do what they can, and sometimes that's extraordinary... [an] ultimately moving story anchored by a complex narrator." --Kirkus, Starred Review

"This well-researched and intensely moving [novel]...is perfect for fans of historical fiction with strong female characters such as The Kitchen House by Kathleen Grissom and Wench by Dolen Perkins-Valdez. Book clubs looking for #OwnVoices authors will be powerfully impressed by this story of a lesser-known aspect of the history of slavery in the American South." --Library Journal, Starred Review

"Johnson achieves a powerful, unflinching account of determination in the face of oppression."--Publishers Weekly

"[A]n absorbing story. A deeply researched and truly transfixing narrative told with heart, soul and skill — one that will no doubt grip the reader as much as it did the author."--Toronto Star


"Johnson writes with imagery so vivid that it's impossible to look away, even during gut-wrenching moments. Readers will be engulfed in captivating suspense..." --BOOKLIST