The Girls Are All So Nice Here: A Novel (Hardcover)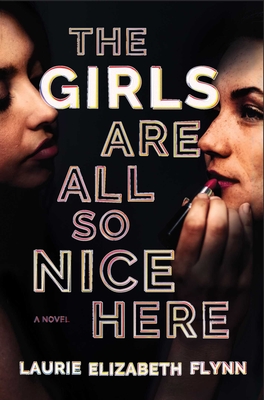 $27.00

Usually Ships in 4-7 Days
Staff Reviews
---
Ambrosia "Abm" Wellington was involved in something bad her freshman year of college, and on the eve of her 10-year reunion, she starts getting notes saying "we need to talk about what we did that night." Told in alternating chapters of Now and Then, we are on a collision course between her pretty perfect Manhattan married life and finding out what went down all those years ago, and who was hurt enough by the events of the past to want to ruin Amb's life now. When she arrives at Wesleyan, Amb is desperate to fit in, and the girl she attaches herself to, Sully, is a sociopath who encourages Amb into progressively more outrageous behavior that culminates in a terrible tragedy. Her husband, who knows nothing about her freshman year, convinces her to go to the reunion, setting the stage for a deadly confrontation 10 years in the making.
— Lisa
March 2021 Indie Next List
---
"The Girls Are All So Nice Here is the first, but not the last, lie you will read when you devour this dark and disturbing novel about college girls and how they treat each other in order to be popular or important. The writing is chilling and so authentic, I felt like I was back in high school or college with a group of toxic girls who would stop at nothing to get what they wanted. The more I read, the more I wondered how Flynn could possibly come up with an ending that would be both satisfying and as deliciously evil as the rest of the book. She managed to deliver, and then some."
— Nancy McFarlane, Fiction Addiction, Greenville, SC
Description
---
A USA TODAY Best Book of 2021

Two former best friends return to their college reunion to find that they're being circled by someone who wants revenge for what they did ten years before—and will stop at nothing to get it—in this "propulsive" (Megan Miranda, bestselling author of The Girl from Widow Hills) psychological thriller.

A lot has changed in years since Ambrosia Wellington graduated from college, and she's worked hard to create a new life for herself. But then an invitation to her ten-year reunion arrives in the mail, along with an anonymous note that reads, "We need to talk about what we did that night."

It seems that the secrets of Ambrosia's past—and the people she thought she'd left there—aren't as buried as she believed. Amb can't stop fixating on what she did or who she did it with: larger-than-life Sloane "Sully" Sullivan, Amb's former best friend, who could make anyone do anything.

At the reunion, Amb and Sully receive increasingly menacing messages, and it becomes clear that they're being pursued by someone who wants more than just the truth of what happened that first semester. This person wants revenge for what they did and the damage they caused—the extent of which Amb is only now fully understanding. And it was all because of the game they played to get a boy who belonged to someone else and the girl who paid the price.

Alternating between the reunion and Amb's freshman year, The Girls Are All So Nice Here is a "chilling and twisty thriller" (Book Riot) about the brutal lengths girls can go to get what they think they're owed, and what happens when the games we play in college become matters of life and death.
About the Author
---
Laurie Elizabeth Flynn is a former model who lives in London, Ontario, with her husband and three children. She is the author of three young adult novels: Firsts, a YALSA Best Fiction for Young Adults pick, along with Last Girl Lied To and All Eyes on Her, under the name L.E. Flynn.
Praise For…
---
A USA Today Best Book of 2021

"The Girls Are All So Nice Here" kept me up all night — literally. I tore through the book in less than 24 hours, forcing my eyes to stay open as if the remaining pages wouldn't be there in the morning."—USA Today

"A college reunion. A toxic friend group. Revenge. All the makings of a page-turner are here in Flynn's book." —Entertainment Weekly

"This chilling and twisty thriller centers on two former best friends who return to their alma mater for a college reunion. Once there, they quickly realize someone is targeting them for revenge for what they did ten years ago. Devastatingly dark and thrumming with tension, The Girls Are all So Nice Here offers a juicy, unflinching portrait of the complexities of friendship and social ambition."—Book Riot

"The story takes place in two alternating time periods: the freshman year for the girls of the story, and the ten-year reunion for the same bunch. Somewhere back in the early times but not revealed until much later, terrible things have happened on campus, and somebody's going to pay a penalty. Many secrets are withheld until late in the story, and while this is a familiar device, Flynn makes it work with special power by piling on the details in numbers and in specificity. Sex, betrayal, scheming — all come into play in dark and heavy loads. Is there someone to root for in all of this? Only at the reader's peril."—The Toronto Star

"With The Girls Are All So Nice Here, Flynn takes the insecurities that come with being a young woman and sharpens them into a deadly point. I read open-mouthed as Amb navigated the complex social calculus of her worlds right up until that stinging kick of a final chapter left me breathless."—Chandler Baker, New York Times bestselling author of Whisper Network

"Laurie Flynn smartly examines the darker complexities of friendship, ambition, and social dynamics in this propulsive thriller. Full of twists and surprises, THE GIRLS ARE ALL SO NICE HERE reminds us that the past has a long reach, and secrets never stay buried forever. I couldn't stop reading until the shocking final twist!"—Megan Miranda, bestselling author of The Girl From Widow Hills

"Alternating between Amb's time at college and the present day, Flynn reveals the darkness girls are capable of, building toward a thrillingly unsettling ending."—Electric Literature

"Dark, twisted, and utterly gripping, THE GIRLS ARE ALL SO NICE explores the unparalleled cruelty of mean girls on a leafy college campus. This propulsive thriller has a killer ending to match its killer title."—Robyn Harding, bestselling author of The Swap

"THE GIRLS ARE ALL SO NICE HERE is twisted, compelling, and so very dark. This devastating story about the friends we keep—and those we don't—is surprising in the best possible way. Flynn's first adult fiction book makes me wonder what she'll come up with next."—Samantha Downing, USA Today bestselling author of My Lovely Wife and He Started It

Juicy, twisty, and relentlessly unsettling, THE GIRLS ARE ALL SO NICE HERE is more than a thriller; it's a masterful portrait of the complexities of female friendships and the raw yearning to fit in. With characters unflinchingly wrought in all their vulnerability and a setting so real, I felt I'd visited the Wesleyan campus myself, this book is a brilliant and wickedly wild ride. I couldn't put it down. —Andrea Bartz, bestselling author of The Lost Night and The Herd

"A sharp, pitch-black thriller that takes the mean-girls trope to another level."--KIRKUS