Damnation Spring (Hardcover)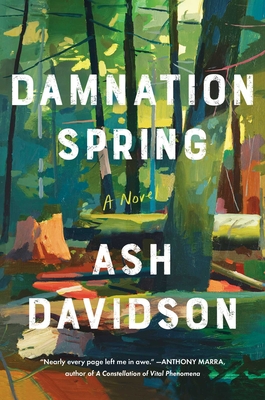 Staff Reviews
---
It's 1976. Loggers are working on felling old growth redwoods in Northern California. This sprawling yet tightly wound novel is told by three narrators: Colleen, logger's wife, mother of 5 year old Chub, and deeply sad over 8 miscarriages. Rich, Colleen's older husband who is from a long line of loggers. He buys a piece of property that he believes will be their salvation. Chub, the much beloved son and the glue holding his parents together. An old love of Colleen's is back in town, studying the effect of the spraying of pesticides with the possibility that this is causing the rash of children born with defects. Every action has a reaction. The reader feels (and rightly so) for both the loggers and the environmentalists. It's a hardscrabble life. There is love and loss. There is blood and healing. Times are changing and we cannot help but read about what will happen to this small community on the beautiful but downtrodden coast of California.
— Valerie
August 2021 Indie Next List
---
"With this debut set in a Pacific Northwest logging town, Ash Davidson has immediately established herself as a true writer of the American experience, in all its potential for self-destruction and beauty."
— Josh Popkin, Odyssey Bookshop, South Hadley, MA
Description
---
NATIONAL BESTSELLER

A MOST ANTICIPATED BOOK: Entertainment Weekly, Oprah Daily, Vogue, Los Angeles Times, The Daily Beast, CNN, Harper's Bazaar

"A glorious book—an assured novel that's gorgeously told." —The New York Times Book Review
"An incredibly moving epic about an unforgettable family." —CBS Sunday Morning
"[An] absorbing novel…I felt both grateful to have known these people and bereft at the prospect of leaving them behind." —The Washington Post

A stunning novel about love, work, and marriage that asks how far one family and one community will go to protect their future.

Colleen and Rich Gundersen are raising their young son, Chub, on the rugged California coast. It's 1977, and life in this Pacific Northwest logging town isn't what it used to be. For generations, the community has lived and breathed timber; now that way of life is threatened.

Colleen is an amateur midwife. Rich is a tree-topper. It's a dangerous job that requires him to scale trees hundreds of feet tall—a job that both his father and grandfather died doing. Colleen and Rich want a better life for their son—and they take steps to assure their future. Rich secretly spends their savings on a swath of ancient redwoods. But when Colleen, grieving the loss of a recent pregnancy and desperate to have a second child, challenges the logging company's use of the herbicides she believes are responsible for the many miscarriages in the community, Colleen and Rich find themselves on opposite sides of a budding conflict. As tensions in the town rise, they threaten the very thing the Gundersens are trying to protect: their family.

Told in prose as clear as a spring-fed creek, Damnation Spring is an intimate, compassionate portrait of a family whose bonds are tested and a community clinging to a vanishing way of life. An extraordinary story of the transcendent, enduring power of love—between husband and wife, mother and child, and longtime neighbors. An essential novel for our times.
About the Author
---
Ash Davidson was born in Arcata, California, and attended the Iowa Writers' Workshop. Her work has been supported by the Arizona Commission on the Arts and MacDowell. She lives in Flagstaff, Arizona.
Praise For…
---
Named a Best Book of 2021 by Amazon, Kirkus, and BookPage

"A glorious book—an assured novel that's gorgeously told... Redwoods have been plundered by humans, damaged in fires and taken down in floods, but they're also incredibly resilient. And as characters in Davidson's graceful rendering remind us, humans are equally resilient. After great loss, they, too, can keep growing."
—The New York Times Book Review

"With great empathy and care, Davidson demonstrates how competing values play out against a backdrop of climate change in America."
—The New Yorker

"[An] ambitious debut [that] gains momentum as Davidson pulls together its foundational concepts— family, work, honor, and loyalty. Damnation Spring is full of surprises."
—Pittsburgh Post-Gazette

"[This] story runs as clear as the mountain streams that draw salmon back to spawn... Damnation Spring joins Richard Powers's Overstory and Annie Proulx's Barkskins in a growing collection of epic novels about our interactions with trees."
—The Washington Post

"An incredibly moving epic about an unforgettable family."
—CBS Sunday Morning

"In her exceptional debut novel, Ash Davidson expresses the heart and soul of Northern California's redwood forest community."
—BookPage

"[A] powerful debut novel... [A] showdown as inevitable as a mudslide [propels] the community down a path as steep and treacherous as any logging road. It's a path Davidson portrays in exquisite detail... In Damnation Spring, giant trees are brought low by human machinations. Communities can be, too."
—The Boston Globe

"Pitch perfect…an unforgettable portrait of the very real consequences that environmental decay can hold, for nature and humanity alike."
—VOGUE.com

"This debut novel drops readers into redwood country, where loggers tangle with 'tree-huggers' and families eke out a living. Like her majestic setting, Davidson provides danger and warmth."
—New York Times Book Review, gift-giving feature

"[An] astonishingly polished and immensely affecting debut novel... What makes Damnation Spring such a knockout — and so devastating to stomach — is Davidson's mature grasp of the precarity of life and the complexities of the human condition. It's the Gundersons' fierce love for each other and unwavering resilience despite multiple betrayals and near unshakeable losses that transform the book from a treatise on the dangers of an unfettered industrial complex and the impacts of climate change into a prescient and deeply felt novel about (mostly) good people just doing their best to survive."
—San Francisco Chronicle

" [A] spine-tingling debut."
—Oprah Daily

"A beautifully immersive debut...a compassionate portrayal of a family and community clinging to a quickly vanishing way of life."
—Arizona Daily Sun

"If you're jonesing for a big family saga, Ash Davidson's debut will do the trick. Damnation Spring tackles major issues with authentic rage and grief."
—LA Times

"[An] ambitious, assured debut...a devastating page-turner with a love story at its center."
—LitHub

"This one might be the best novel of the year. It's this incredible story that is being compared to John Steinbeck…I usually just brush off those comparisons, but I think it's actually worthy."
—WBEZ Nerdette Podcast

"There is so much that is right and particular about this novel. Rarely will a reader have such a tactile experience of life in a forest logging community as one receives here. Davidson also sensitively portrays the fraught relationship between the Indigenous tribe of Yuroks and the white members of the logging community. Here, all politics are local: It slowly dawns on Colleen that herbicides, sprayed to help the logging industry, hurt babies; and the unethical owner of the timber company is a flawed and greedy local guy, not a corporate mover on Wall Street. Davidson was born in Arcata, California, just south of the redwood forest she writes about in Damnation Spring. She's studied the lay of the land, and she expresses the heart and soul of this place and time."—BookPage (starred review)

"As thoughtfully as Davidson establishes these dilemmas, she's equally skilled at writing an outdoorsy adventure novel, in which logging threatens the lives of workers with snapped cables and everybody else via landslides. Thematically, it's a strong work of climate fiction, but it's rooted in age-old man-versus-nature storytelling. An impressively well-turned story about how environmental damage creeps into our bodies, psyches, and economies."
—Kirkus (starred review)

"Davidson's impressive debut chronicles life in a working-class community so thoroughly that the reader feels the characters' anguish as they're divided over environmental concerns that threaten their lives and livelihoods....The depiction of ordinary people trapped by circumstances beyond their control makes for a heart-wrenching modern American tragedy."
—Publisher's Weekly

"Well-researched…this lengthy novel spans just one year over four decades ago—the summer of 1977 to the summer of 1978—but it couldn't be more relevant today."
—The Daily Beast

"Struggles and heartbreaks play out on the richly rendered backdrop of a community on the brink of major change."
—Booklist

"In her astonishingly accomplished first novel, Ash Davidson reminds us that we are never more profoundly shaped by our environment than when we destroy it. Nearly every page left me in awe." —Anthony Marra, author of A Constellation of Vital Phenomena

"Damnation Spring is that wonderful evocation of a world so complete you can't believe it's fiction, each character and moment drawn with precision and heart. Davidson crafts a portrait of a marriage inside a portrait of a town inside a portrait of an industry, refracting the consequences of capitalism through people's lives and bodies. A masterful and sensitive explication of how humans are part of their environment no less than trees, mud, other animals, and water, this novel takes place forty years ago but could not be more relevant. If you want to know how we came to find ourselves amid an extinction event, or you need a gripping escape from considering the same, read this book." — Merritt Tierce, author of Love Me Back

"Nowhere else on earth do the trees reach so high as the ancient groves of redwoods that tower over the fog-laced coast of the Pacific Northwest. And in few other settings can a writer erect an overstory so vast, so intricate, so tightly woven that when its readers lean back and gaze into its branches, they are somehow made to feel both diminished and expanded in the very same breath. Like the canopy of an enchanted forest, Damnation Spring is draped in a tapestry of shadows dappled with sunlight, mystery pierced through by beams of revelation, and a harrowing natural beauty capable of drawing forth gorgeous, gracefully wrought prose that is soaring, magnificent, and drenched in birdsong." —Kevin Fedarko, author of The Emerald Mile

"Unavoidable, maybe, but Damnation Spring recalls Kesey's Sometimes a Great Notion, a big, rollicking crowd pleaser of a family saga set in hardscrabble logging country. Ash Davidson's homespun characters aren't just local color. Like their community, they face a reckoning as their lives and livelihoods collide with the wider world." —Stewart O'Nan, author of A World Away and Songs for the Missing

"With its lavishly evoked, fog-bound rainforest, its sawtooth humor, shifting narrative perspectives, and testosterone-fueled battles against nature, Damnation Spring inevitably recalls Ken Kesey's Sometimes A Great Notion. But Ash Davidson treads boldly beyond Kesey's narrow vision to the profit motives that exploit a brutal machismo culture, bereft of health or humanity. Most poignantly, she gives voice to the women whose lives and unborn children succumb to chemical and timber company bottom lines. Her scenes of childbirth, grief, and helpless rage mirror in heartbreaking detail the reality of families in the poisoned, strip-mined clearcuts of the Pacific Northwest today." —Carol Van Strum, author of A Bitter Fog: Herbicides and Human Rights, and The Oreo File

"Ash Davidson writes with unwavering compassion—for bitterly divided families, for those with fatally opposed ideologies, for our fragile natural world. Such is the rare generosity of spirit that has produced Damnation Spring—an elegant novel of profound power and grace." —Madhuri Vijay, author of The Far Field

"So absorbing is Damnation Spring, so rich with the atmosphere of a time and a place, that when I laid the book down it was hard not to look around my living room and wonder where the redwoods had gone. What impresses me the most about Ash Davidson and her writing is how deeply she understands her characters, and how sharply she has observed their world, yet how little fuss she makes about it. There's not an ounce of ego on display here, which means that it's never the singer you hear, always the song. And the song, in this case, is magnificent." —Kevin Brockmeier, author of The Ghost Variations and The Brief History of the Dead

"Damnation Spring is, like the redwood trees at the center of its story, a beautiful, timeless, and breathtaking novel. It is painstakingly researched and lovingly crafted. But most importantly, the author is incredibly sensitive and tender with her characters, who, for the reader, quickly become as close as neighbors or family. Ultimately, time is the best judge of artistic quality, but for me, this book has all the makings of a classic. It is, in my estimation, a Great American Novel. A novel that tips its cap at writers like Steinbeck and Kesey, but also confidently forges ahead, blazing new paths. Just – a stunning, wondrous book." —Nickolas Butler, author of Shotgun Lovesongs and Little Faith

"Damnation Spring dignifies the working-class experience with complicated characters whose hopes and heartbreaks at once transcend and are defined by their relationship to labor. Davidson evokes a story so vivid that readers will smell the trees, feel the damp, and—most importantly—care about a family." —Sarah Smarsh, author of Heartland

"A sweeping family saga of love and grief and the deeply personal tragedies that occur when our planet is abused. This is the kind of novel I've been craving for ages. Ambitious in its scope, masterful in its execution. This stunning story, written in pitch-perfect prose, announces Ash Davidson as a major new voice in American Literature. Every page stirred my soul." —Emily Ruskovich, author of Idaho