Good Neighbors: A Novel (Paperback)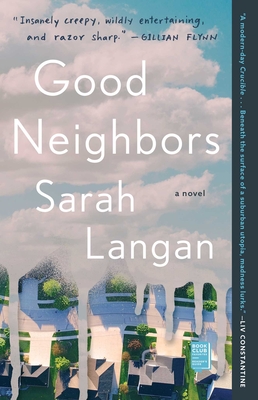 Staff Reviews
---
2027 - On Maple Street in Garden City suburbia, undercurrents of unrest seep to the surface just as a member of the adolescent "rat pack" disappears into a large sinkhole that forms at the neighborhood park. Even before this bizarre event, tensions between once close neighbors begin to rise like the summer temperatures. The queen bee of the 'hood, Rhea, a college professor, rejects her former friend and rallies others to do the same. Accusations of rape toward the "newly suburbanized" former rock star, Arlo Wilde, turns most everyone against him and his family, pregnant wife - Gertie, teenage girl - Julia, and sensitive, insightful - Larry, aka, Robot Boy. Sadly, all of this attention toward a possible repulsive scenario takes focus away from the missing child. Bricks are thrown along with accusations and beatings occur. Buried ugly secrets are dug up. Sarah Langan weaves newspaper articles, interviews, and future scholarly papers of the incidents into this novel and the structure allows the phony accounts to flow like wine. Of course, gallons of wine drinking occurs in this unsettling story about fitting into an unfamiliar social class, past traumas, and mob mentality fear. A magnetic and toxic, yet satisfying read.
— Liz
Description
---
Celeste Ng and Liane Moriarty's enthralling dissection of suburbia meets Shirley Jackson's creeping dread in this "wickedly funny, unnerving puzzle box of a novel" (Dan Chaon, author of Ill Will) about the downward spiral of a Long Island community after a tragedy exposes its residents' depths of deception.

Welcome to Maple Street, a picture-perfect slice of suburban Long Island, its residents bound by their children, their work, and their illusion of safety in a rapidly changing world.

But menace skulks among this exclusive enclave. When the Wilde family arrive, they trigger their neighbors' worst fears. Dad Arlo's a gruff has-been rock star with track marks. Mom Gertie's got a thick Brooklyn accent, with high heels and tube tops to match. Their weird kids cuss like sailors. They don't fit with the way Maple Street sees itself.

Maple Street's Queen Bee, Rhea Schroeder—a lonely professor repressing a dark past—initially welcomed Gertie, but relations plummeted during one summer evening, when the new best friends shared too much, too soon. By the time the story opens, the Wildes are outcasts.

As tensions mount, a sinkhole opens in a nearby park, and Rhea's daughter Shelly falls inside. The search for Shelly brings a shocking accusation against the Wildes. Suddenly, it is one mom's word against the other's in a court of public opinion that can end only in blood.

Riveting and ruthless, Good Neighbors is "a chilling, compulsively readable novel that looks toward the future in order to help us understand how we live now" (Kevin Wilson, author of Nothing to See Here).
About the Author
---
Sarah Langan, a Columbia MFA graduate and three-time recipient of the Bram Stoker Award, is the author of three novels including The Keeper. She grew up on Long Island and she currently lives in Los Angeles with her husband and daughters. Find out more at SarahLangan.com.
Praise For…
---
"A sinkhole opens on Maple Street, and gossip turns the suburban utopia toxic. A taut teachable moment about neighbors turning on neighbors." —PEOPLE

"Langan's sharply observed novel is a study of mob mentality with a healthy dose of dry humor and, of course, a generous side dish of murder." —CrimeReads

"One of the creepiest, most unnerving deconstructions of American suburbia I've ever read. Langan cuts to the heart of upper middle class lives like a skilled surgeon." —NPR

"A modern-day Crucible, Good Neighbors brilliantly explores the ease with which a careless word can wreak havoc and the terrifying power of mob mentality. Beneath the surface of a suburban utopia, madness lurks. The veneer of civility among close neighbors disguises hypocrisy, envy, and hatred. Langan deftly unveils the psychology behind her character's actions with blistering prose and spot-on depictions. She is a writer to watch!" —Liv Constantine, bestselling author of The Last Mrs. Parrish

"There's a monster in each of us, in all of us, and there's a sinkhole in our hearts, too. Good Neighbors will walk you right up to the lip of that cavity, and make you look in, at your own monstrousness." —Stephen Graham Jones, acclaimed author of The Only Good Indians

"A creepy standout for readers who want an extra kick to their suburban dramas." —Booklist (starred review)

"An incredibly dark (and surprisingly fun) page-turner." —Kirkus Reviews

"Where the hell has Sarah Langan been? Because she suddenly pops up again after being MIA for eleven years and shotguns everyone in the face with an all-American horror novel about friendships—deep, shallow, toxic, true—that's unpredictable enough to make every page-turn stomach-crampingly stressful." —Grady Hendrix, New York Times bestselling author of The Southern Book Club's Guide to Slaying Vampires

"Witty dialogue abounds, and Langan sets up an ambitious structure by incorporating tabloid excerpts of the Wildes' past and studies of the sinkhole published in the future. This sharp, propulsive novel pulls off a maximalist variation on suburban gossip gone wrong." —Publishers Weekly

"[A] mesmerizing novel. . . . Langan's witty reference to 'The Monsters Are Due on Maple Street,' the famous Twilight Zone episode about scapegoating turned deadly. A must-read from the Bram Stoker award-winning author (she's known for her horror stories) that offers both page-turning suspense and brilliant social commentary." —AARP: "Winter Fiction Preview: 20 Novels for 2021"

"Langan weaves interviews and news clips into her tightly written, fast-paced narrative, conveying the infectious spread and mutation of stories goaded by media sensationalism and attention-seeking neighbors. As gossip and rumors swell and proliferate, the stakes grow exponentially as well. The richly complex main characters reveal flawed pasts and duplicitous natures as the story transforms into a witch hunt. . . . Intricate and edgy, Good Neighbors is a descent into depraved suburban drama, perfect for fans of Daphne du Maurier's Rebecca and Stephen King-style thrills." —BookPage

"Good Neighbors is a wickedly funny, unnerving puzzle box of a novel. Sarah Langan has a delightfully twisted sensibility." —Dan Chaon, author of Ill Will

"In Sarah Langan's amazing, riveting Good Neighbors, we sift through the wreckage of a neighborhood, trying to make sense of the violence and hidden darkness of a small community in the aftermath of disaster. Langan is an inventive, confident writer, with such a sharp sense of humor, and she so deftly handles the complex ways in which we find ourselves inextricably linked to each other, how little it takes to push us over the edge. A chilling, compulsively readable novel that looks toward the future in order to help us understand how we live now." —Kevin Wilson, New York Times bestselling author of Nothing to See Here

"Sarah Langan is a phenomenal talent with a wicked sense of wry humor. Good Neighbors knocked me out. Like Shirley Jackson's novels, Langan's work blends a bleak streak with an underlying sense of the humane that wrung my heart." —Victor LaValle, author of The Changeling

"Good Neighbors was such a fun read—fun in a brilliant, twisted, dark, compulsive-reading kind of way! I loved the structure of it, with the little hints Langan threw my way about the Maple Street Murders—I just had to keep reading, because I had to know what happened. She is so good at showing how the idle gossip of suburbia can turn darker, malevolent, and downright dangerous. Wonderful stuff!" —Claire Fuller, author of Bitter Orange

"You have to read Good Neighbors. Through Langan's gift for mood and setting, I was absolutely transported to Maple Street—I feel like I lived in this book, walked in it, dreamed in it. The characters were strikingly real and I was utterly invested in their individual journeys. All of it—the characters, the setting, the sinkhole, the heat—made this book the masterpiece that it is. Real and sad and almost painfully moving, Good Neighbors is a novel I will never forget." —Sally Hepworth, bestselling author of The Mother-in-Law

"Good Neighbors is a riveting critique of American suburbia. Langan deftly confronts social mores and beliefs as she tears all the ugliness down to make something dangerous and beautiful. The monsters of Maple Street have never been so us." —Paul Tremblay, author of A Head Full of Ghosts and The Cabin at the End of the World

"In the wonderfully inventive Good Neighbors, Sarah Langan takes her readers on a wild ride through suburbia. As sinkholes open and rumours rise, I couldn't stop turning the pages to find out what new terrible event would befall these fascinating characters, each with a secret sorrow. A gripping read." —Margot Livesey, New York Times bestselling author of The Flight of Gemma Hardy and The Boy in the Field

"A brilliant story. I was completely absorbed by the world Sarah Langan created. The interspersing of the media excerpts was inspired and my interest was piqued and then my assumptions were blown away by the end. I even felt a little sorry for the monster that is Rhea. Clever, arresting and thought-provoking, Good Neighbors gripped hold of me like the best kind of thriller." —Melanie Golding, author of Little Darlings