Leonora in the Morning Light (Hardcover)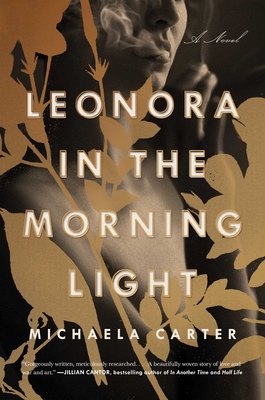 Staff Reviews
---
During 1937, Leonora Carringon, a privileged 20 year old Londoner is involved in an affair with older German artist, Max Ernst. Leonora runs off with Ernst to Paris exploring her own artistic talents while living as his intense love interest. While they are partying and contemplating life with others that push against traditional norms, Germany is gaining strength as a world power. Historical details of Nazi occupation in Paris and the rise of Surrealism weave throughout this tumultuous love story. For a while, the couple peacefully lives and creates in the French countryside, but when Max is sent to internment camps for being one of the "degenerates", they must each figure out how to escape to America. Peggy Guggenheim's role in saving artists, such as Max, and their art during this important period shapes each character as does a forced stay at a mental institute for Leonora. Ultimately, they all end up in New York and their lives stay entwined until Leonora realizes she must break free to find her own creative, sane self.
— Liz
Description
---
One of O, The Oprah Magazine's "Most Anticipated Historical Fiction Novels That Will Sweep You Away" and LitHub's "Most Anticipated Books of 2021."

For fans of Amy Bloom's White Houses and Colm Tóibín's The Master, a page-turning novel about Surrealist artist Leonora Carrington and the art, drama, and romance that defined her coming-of-age during World War II.

1940. A train carrying exiled German prisoners from a labor camp arrives in southern France. Within moments, word spreads that Nazi capture is imminent, and the men flee for the woods, desperate to disappear across the Spanish border. One stays behind, determined to ride the train until he reaches home, to find a woman he refers to simply as "her."

1937. Leonora Carrington is a twenty-year-old British socialite and painter dreaming of independence when she meets Max Ernst, an older, married artist whose work has captivated Europe. She follows him to Paris, into the vibrant revolutionary world of studios and cafes where rising visionaries of the Surrealist movement like Andre Breton, Pablo Picasso, Lee Miller, Man Ray, and Salvador Dali are challenging conventional approaches to art and life. Inspired by their freedom, Leonora begins to experiment with her own work, translating vivid stories of her youth onto canvas and gaining recognition under her own name. It is a bright and glorious age of enlightenment—until the shadow of war looms over Europe and headlines emerge denouncing Max and his circle as "degenerates," leading to his arrest and imprisonment. Left along as occupation spreads throughout the countryside, Leonora battles terrifying circumstances to survive, reawakening past demons that threaten to consume her.

As Leonora and Max embark on remarkable journeys together and apart, the full story of their tumultuous and passionate love affair unfolds, spanning time and borders as they seek to reunite and reclaim their creative power in a world shattered by war. When their paths cross with Peggy Guggenheim, an art collector and socialite working to help artists escape to America, nothing will be the same.

Based on true events and historical figures, Leonora in the Morning Light is an unforgettable story of love, art, and destiny that restores a twentieth-century heroine to her rightful place in our collective imagination.
About the Author
---
Michaela Carter is a writer, painter, and an award-winning poet. Her novel Further Out Than You Thought was an Arizona Republic Recommends and AZ Central's Best critic's pick for 2014. Her poetry won the Poetry Society of America, Los Angeles, New Poet's Prize, has been nominated for Pushcart Prizes, and has appeared in numerous anthologies and journals. She is the cofounder of the independent bookstore The Peregrine Book Company, where she works as a buyer. She lives in Prescott, Arizona, with her husband and two dogs, and she can be visited on the web at MichaelaCarter.com.
Praise For…
---
ADVANCE PRAISE FOR LEONORA IN THE MORNING LIGHT

"A fascinating read that offers insights into the dreamlike work of the artist. . . Michaela Carter's rich prose pulled me in, and her haunting portrait of Leonora Carrington kept me turning pages." —Nancy Horan, New York Times bestselling author of Under the Wide and Starry Sky and Loving Frank

"Gorgeously written, meticulously researched. . . . Michaela Carter's poetic style and vivid prose swept me up into this fascinating and beautifully woven story of love and war and art." —Jillian Cantor, USA Today bestselling author of In Another Time and Half Life

"Michaela Carter invokes the bohemian intrigues of artistic pre-WWII Paris, and the terrors that ensued, in her riveting story of Leonora Carrington's tumultuous affair with celebrated painter, Max Ernst. . . . Vivid and colorful as her canvases, this novel depicts the conflicted heart of an artist, and a survivor who refused to admit defeat." —C.W. Gortner, internationally bestselling author of Mademoiselle Chanel

"Michaela Carter's training as a poet and painter shines through from the first page of this vivid, gorgeous novel based on the lives of Leonora Carrington and Max Ernst. Told with all the wild magic and mystery of the Surrealists themselves, Leonora in the Morning Light fearlessly illuminates the life and work of a formidable female artist." —Whitney Scharer, bestselling author of The Age of Light

"An extraordinarily researched historical novel about the romance—and heartbreak—shared by Surrealists Leonora Carrington and Max Ernst at the dawn of WWII, Leonora in the Morning Light is both imaginative and riveting. With little prior knowledge of Carrington and her work, I became consumed by her story, as portrayed in Michaela Carter's poetic, captivating narrative." —Cynthia Swanson, New York Times bestselling author of The Bookseller and The Glass Forest

"Michaela Carter's brilliant new novel is a fully imagined portrait of the sexual and artistic coming of age of a Great Woman. Leonora in the Morning Light is breathtaking and bold, formidably well researched and entrancingly beautiful." —Kate Christensen, PEN/Faulkner award-winning author of The Great Man and The Last Cruise

"Deeply empathic. . . . Carter has written a refulgent and deeply involving historical tale of tragic lost love, determined survival, the sanctuary of art, and the evolution of a muse into an artist of powerfully provocative feminist expression." —Booklist (Starred Review)

"A satisfying historical novel about love, art, and war. . . Carter meditates beautifully on the unique difficulties of being a woman artist." —Kirkus Reviews