Tori Amos: Little Earthquakes (Hardcover)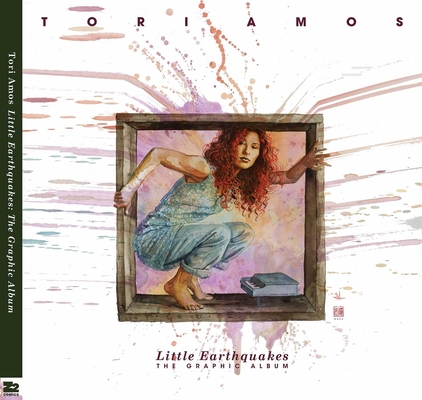 $39.99

Usually Ships in 4-7 Days
Description
---
Celebrating 30 years of Tori Amos' breakout album: Little Earthquakes!

The official graphic novel celebrating 30 years of Tori Amos's breakout album: Little Earthquakes. The landmark release that established her iconic thematic voice, as well as her live intensity behind the keys with unflinching lyrics and songs that would inspire generations of artists and musicians. This graphic novel demonstrates the lasting influence of this defining work with 24 stories inspired by the 12 songs on the album, as well as the 12 'B-sides' that accompanied the album and its associated singles. With star writers such as Neil Gaiman and Margaret Atwood being assembled by Z2 editor Rantz Hoseley, who previously edited the multi-award-winning Comic Book Tattoo, and who painted the cover for her recent Christmastide EP.
About the Author
---
Tori Amos is an American pianist, singer-songwriter and composer. This hugely talented recording artist is a classically trained musician who is known in the music circuits for being one of the few alternative rock singers to use a piano as her primary instrument. From her early work in a band to a noteworthy solo career, she has had an immensely successful career and has achieved great heights in the world of music. She has never let her challenges, her own rebelliousness, creative or financial disagreements, or a record label's avarice, stand in the way of composing music in her own unique style.

Gaiman began his writing career in England as a journalist. His first book was a Duran Duran biography that took him three months to write, and his second was a biography of Douglas Adams, Don't Panic: The Official Hitch Hiker's Guide to the Galaxy Companion. Gaiman describes his early writing: "I was very, very good at taking a voice that already existed and parodying or pastiching it." Violent Cases was the first of many collaborations with artist Dave McKean. This early graphic novel led to their series Black Orchid, published by DC Comics.

The groundbreaking series Sandman followed, collecting a large number of US awards in its 75 issue run, including nine Will Eisner Comic Industry Awards and three Harvey Awards. In 1991, Sandman became the first comic ever to receive a literary award, the 1991 World Fantasy Award for Best Short Story.

MARGARET ATWOOD, whose work has been published in more than forty-five countries, is the author of more than fifty books of fiction, poetry, critical essays, and graphic novels. Her latest novel, The Testaments, is a co-winner of the 2019 Booker Prize. It is the long-awaited sequel to The Handmaid's Tale, now an award-winning TV series. Her other works of fiction include Cat's Eye, finalist for the 1989 Booker Prize; Alias Grace, which won the Giller Prize in Canada and the Premio Mondello in Italy; The Blind Assassin, winner of the 2000 Booker Prize; The MaddAddam Trilogy; and Hag-Seed. She is the recipient of numerous awards, including the Peace Prize of the German Book Trade, the Franz Kafka International Literary Prize, the PEN Center USA Lifetime Achievement Award, and the Los Angeles Times Innovator's Award. She lives in Toronto.

Alison Sampson is a comic book artist and architect based in London, UK. As well as having drawn GENESIS with Nathan Edmondson for Image Comics, she has worked with DC/Vertigo, Dark Horse, IDW, and Boom! Studios, amongst others.

Neil Kleid is a U.S. cartoonist raised in Oak Park, Michigan, now living in New Jersey. He has received a 2003 Xeric Award grant for his graphic novella Ninety Candles.

Since founding The Blank Corporation with Neil Gaiman back in 2016, Cat Mihos has helped build and oversee their expansive TV and film slate, including shows such as BBC's Good Omens, Starz' American Gods, and the upcoming Sandman series with Netflix. Prior to working in film and television, Cat worked in the live music industry and toured the world with acts such as Britney Spears, Lady Gaga, Mötley Crüe, Tool, and many more. She is also a published author and enjoys making art out of glass and old comics.

Marc Andreyko (born 20 June 1970) is a comic book writer and screenwriter, known for his work on books such as Manhunter for DC Comics, and Torso, a creator-owned true crime series he wrote with Brian Michael Bendis.

Annie Zaleski is a Cleveland-based author, editor, and journalist whose work has appeared in dozen of publications including NPR Music, The Guardian, Rolling Stone, Salon, and Billboard.

For the past 17 years, Lar has been pulling double duty as the cartoonist for the 2008 Shuster Award winning online comic "Looking For Group" (LFG.co) and the comic "Least I Could Do" (LICD.com). Lar has also been the recipient of the Prix Aurora Award for Artistic Achievement in Canadian Science Fiction (2008, 2006) and numerous other awards for caricature and cartooning.

He was born to humble surroundings on a Hallowe'en night many years ago. After an apparently normal childhood, he attended Sheridan College of Visual Arts where he obtained diplomas in Illustration and Computer Graphics. While other artists might have muses that look like Grecian oracles, Lar's wears three fingered gloves and speaks in a shout. It was only a matter of time before professional cartooning called his name.

He has been artistically active in fandom for many years, garnering a reputation as a passing fair cartoonist and a sick puppy.

Derek McCulloch is a writer, best known for his graphic novels such as Stagger Lee, Gone to Amerikay, and Pug.

Colleen Doran is an award-winning writer and artist who has illustrated hundreds of comics, graphic, novels and books including Amazing Fantastic Incredible Stan Lee and Neil Gaiman's New York Times Bestseller, Troll Bridge.

LEAH MOORE is a writer, born in Northampton, England, in 1978.

Her career began in 2002 with scripts written for America's Best Comics (ABC).

Since 2003 she has also co-written comics and Graphic Novels with her husband, John Reppion, as Moore & Reppion.

Leah's published work includes scripts for DC Comics, Dynamite Entertainment, Heavy Metal Magazine, 2000 AD, Shelly Bond's Black Crown Publishing, and Z2 Comics. Her poetry and prose have been published in several anthologies, and she has written columns and articles for the likes of Comic Heroes Magazine, and The Big Issue.

2021 saw the publication of Morrison Hotel - a Graphic Novel based on the album of the same name by The Doors - which Leah wrote for Z2 Comics.

2022 will see the release of Mötley Crüe - The Dirt: Declassified, written by Leah and, again, released by Z2 Comics.

Leah is currently working on new projects for Z2 Comics, Liminal 11, and others.

Leah Moore is represented by James Wills at Watson, Little Ltd.

David Mack is a writer, artist, director, designer- Mack earned an Emmy Award nomination for the Jessica Jones Netflix opening titles, New York Times Best Selling Author & Artist of KABUKI, writer of MARVEL's Daredevil, Creator of ECHO (now making her screen debut in the new MARVEL Hawkeye series & starring in her own ECHO tv series on Disney+).

Cover artist of Neil Gaiman's American Gods, & Norse Mythology, Jessica Jones, & Fight Club 2 by Chuck Palahniuk. Artist on Jessica Jones opening titles & Captain America The Winter Soldier film titles & Cultural Ambassador for the US State Dept.

Mack created the character ECHO who is making her screen debut in the new Marvel Hawkeye series & starring in her own ECHO tv series.

Bilquis Evely is an Eisner nominated comic book illustrator who has whose works include Wonder Woman, Sandman: The Dreaming, Legends of Tomorrow, and DC Comics Bombshells.

Kelly Sue DeConnick is best known for surprise hits like Carol Danvers' rebranding as Captain Marvel and the Eisner-nominated mythological western, PRETTY DEADLY; the latter was co-created with artist Emma Ríos. The sci-fi kidney-punch called BITCH PLANET, co-created with Valentine De Landro, launched to rave reviews in December 2014 and has since been nominated for an Eisner. She has also worked for Boom, DC Comics, Humanoids, IDW, Oni Press, and Vertigo. She currently develops television with her husband and partner, Matt Fraction, as Milkfed Criminal Masterminds.

Kelly Sue DeConnick is best known for comic books like Marvel's Captain Marvel, PRETTY DEADLY (co-created with artist Emma Ríos), BITCH PLANET (co-created with artist Valentine De Landro), and DC Comics's AQUAMAN and WONDER WOMAN HISTORIA: THE AMAZONS. DeConnick and her husband, Matt Fraction, currently develop television as Milkfed Criminal Masterminds, Inc

Gibson Twist is a writer and cartoonist from Atlantic Canada, currently living in St Louis, Missouri. His long-running 8-volume webcomic series Pictures of You received critical acclaim for its rich characters and honesty with sensitive subjects, building a diverse audience of all ages, ethnicity, gender and sexuality. Pictures of You continues to resonate with its cult following years after its conclusion. More recently, his graphic novel Queer Drunk Punk Romance, aimed at new adult audiences, has received glowing praise from queer and non-queer readers alike.

Rori is a cartoonist, designer, and illustrator from St. Louis. She is the author of several comics including the autobiographical Tiny Pink Robots, and the creator and illustrator of the popular online art series #100Days100Women. Her sequential work has appeared in IDW's Femme Magnifique and Image Comics' Bingo Love, while her illustration and design clients range from Harvard to Harley Davidson. Rori has been interviewed by and her art featured in a number of national and international publications, both online and in print, such as Chatelaine, Upworthy, and NPR. Currently, her illustration work is the focus of two major exhibits and accompanying publications with the Missouri History Museum, including Beyond The Ballot, celebrating the centenary of women's suffrage in America.

Desi Alicea-Aponte is a visual storyteller and illustrator currently residing in Texas

Gianna Meola is an illustrator and cartoonist currently living in Brooklyn.

Benjamin Dewey is an illustrator who has been published by some of the biggest comic book companies in the world including Marvel, DC, and Dark Horse.

Olivia Sullivan is an illustrator, comic artist, and experimental designer.