Gatherings: Casual-Fancy Meals to Share (Hardcover)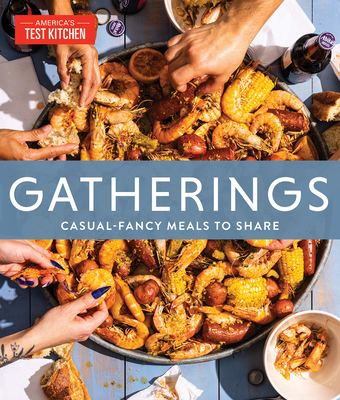 Staff Reviews
---
America's Test Kitchen's recipes are known for being delicious, solidly written, and predictably prepared. But what I really liked about this new cookbook was the format of planning whole themed meals, including mains, sides, desserts, and an adult beverage pairing, along with a timeline for preparation. One summer standout was a dessert from the book's Maine-inspired menu: lime possets with fresh raspberries. These are essentially little crust-free key lime pies served chilled in a small ramekin or jar (I suspect other citrus could be substituted with ease). These little desserts were tart, refreshing and simply perfect during our string of triple-digit days. As expected, the recipe is very exact and yields excellent results when followed to the letter. I have no doubt any of the recipes could stand very well on its own, but it is quite nice to have the guesswork taken out of what to serve alongside each one. This cookbook would make a fabulous gift for home cooks who enjoy hosting and are just looking for fresh ideas for whole menus with pretty much guaranteed results, start to finish.
— Jennifer K.
Description
---
The cooks of America's Test Kitchen share how they entertain at home, with 140 recipes from simple to showstopping and airtight planning strategies

Toss out old rules of getting together and throw a dinner party so memorable and fuss-free that everyone will want to repeat it— even the host
It's time to get excited about entertaining again. The cooks of America's Test Kitchen are shaking up the notion of what a dinner party is all about, stepping away from the test kitchen to reveal their favorite ways to entertain friends and family and sharing an all-new collection of personal recipes. After all, professional cooks want to chill out when hosting at home, just like everyone else.
Be Casual (but Fancy): Grill expert Morgan Bolling transforms a grill-smoked pork butt into the star of a giant nacho spread. Avid gardener Jack Bishop showcases late-summer produce in a whole new light for a simple pasta and salad dinner. Matthew Fairman urges everyone to dig in with their hands to his Viet-Cajun shrimp boil.
Get Playful: Stephanie Pixley's dumpling dinner easily morphs into a make-your-own-dumpling party. Amanda Luchtel's vegan-optional hot dog spread features smoked carrot dogs and loads of festive toppings. Mark Huxoll's hearty Oktoberfest is a blast any time of year.
Go All Out: Joe Gitter pays homage to his heritage with a proper British picnic. Leah Colins does the same with her South Philly Nonna's Sunday porchetta abbondanza. Steve Dunn has a swooningly romantic dinner that starts with cocktails and smoked salmon kettle chip "blini" and ends with a make-ahead Napoleon that looks right out of a pastry shop.
Up Your Game: Cooks share all their pro tips, too, including game plans to achieve each menu and advice on shopping, make ahead, setup, and serving—all the logistical info for a fun, hitch-free gathering.
Mazimize Quality Fun Time: Discover the cooks' favorite store-bought hacks for pulling together pre-dinner nibbles (and desserts), for planning drink selection and quantities, and for responding creatively when asked, "What can I bring?"
About the Author
---
America's Test Kitchen publishes award-winning cookbooks along with Cook's Illustrated and Cook's Country magazines and produces public television's top-rated shows, America's Test Kitchen and Cook's Country. It is a very real 15,000-square-foot kitchen located in Boston's Seaport district and is home to more than 60 test cooks, editors, and tasting and testing experts.
Praise For…
---
"The newest addition to the pantheon of America's Test Kitchen titles is their first book focused on cooking for crowds and entertaining. Fans of the ATK TV show will appreciate getting to know familiar personalities and many behind-the-scenes contributors as these menu makers share their favorite cookbooks, ingredients, and secret weapons in introductory profiles and menu introductions... This comprehensive guide is packed with delicious recipes and fun menu ideas, but its unique draw is the personal narrativeand knowledge-sharing of each ATK chef, which will make this a hit." -- Booklist