Zen Pig: Distance, Masks & Kindness (Hardcover)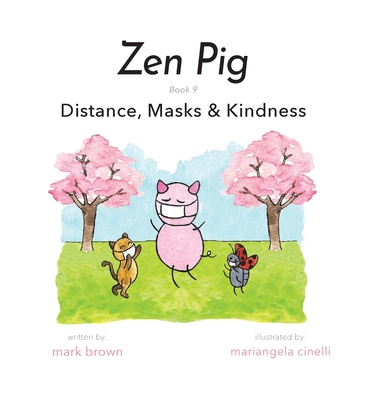 $33.68

Usually Ships in 4-7 Days
Description
---
Discover how to adapt to a new world with safety, patience, and a little spot of empathy
Zen Pig helps his beloved hometown understand the importance of masks and social distancing. Through a live broadcast, Zen Pig helps his friends learn how to stay calm and adapt to a new routine with ease. Zen Pig: Distance, Masks, & Kindness is one of the best pandemic books for kids that help them understand how to keep safe from disease.
Keeping safe at home for the time being is a great assistance for all
Just for the time being, home is where we'll learn and we'll miss being with our school friends. But soon to school, we'll return. When we do leave our home, remember to plant a seed of compassion and keep socially distant by giving each other six feet of space. Zen Pig: Distance, Masks, & Kindness teaches kids how following safety rules is showing kindness.
Find some joy and peace each day as you find yourself indoors and practice keeping safe
Remember, this isn't forever. Masks and distancing aren't here to stay. Try to find some joy and peace each day. Zen Pig: Distance, Masks, & Kindness is one of the best books about germs and one of the most informative books about masks for kids that teaches safety protocols with illustrated visuals that are easy to understand.
Collect other books by Mark Brown
Mark Brown is on a mission to help children reach their full potential by giving them practical lessons of inner peace, gratitude, compassion, acceptance, and happiness. He has helped thousands of children boost confidence, self-esteem, and develop a calming mind with books like Camp Zen Pig, Zen Pig: Where You'll Find Love, Zen Pig: All That Is Needed, Zen Pig: Feelings Are Clouds, Zen Pig: Here to Do, and Zen Pig: The Art of Gratitude.