Zen Pig: The 7 Rules of Valentine's Day (Paperback)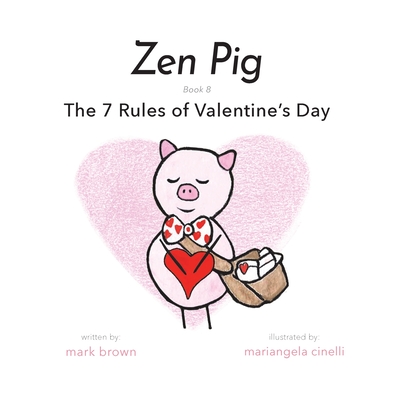 $20.18

Usually Ships in 4-7 Days
Description
---
Discover beautiful love lessons that will grow a kinder and more compassionate heart
Do you know the 7 rules of the Valentine's Day game? In Zen Pig: The 7 Rules of Valentine's Day, Zen Pig teaches his lonely panda friends how to best share love with family and friends on this special day. This love book for toddlers contains beautiful life lessons such as showing love through your actions. Whether it's day or night, remember to express kindness to others.
Love your friends and family always and forever by loving yourself as big as the world
If you want to share love with a valentine, you might be asking yourself where you can begin with love. Zen Pig says that love must always start from within, so show love to yourself with a hug each day. Zen Pig: The 7 Rules of Valentine's Day gives kids inspiring rules of love that they can implement in their lives so that they lead with empathy and thrive in their lives.
Unlock the transformative and healing gift of love in this beautiful picture book
Honor love and its power. For love heals, transforms, and nurtures. Learn to accept the gift of love. Many don't feel worthy of it, but it's something we're all deserving of. Zen Pig: The 7 Rules of Valentine's Day helps kids move closer to feeling like their authentic selves by teaching them that love is the source of self-esteem, self-worth, inner peace, and success.
Collect other books by Mark Brown
Mark Brown is on a mission to help children reach their full potential by giving them practical lessons of inner peace, gratitude, compassion, acceptance, and happiness. He has helped thousands of children boost confidence, self-esteem, and develop a calming mind with books like Camp Zen Pig, Zen Pig: Where You'll Find Love, Zen Pig: All That Is Needed, Zen Pig: Feelings Are Clouds, Zen Pig: Here to Do, and Zen Pig: The Art of Gratitude.