Zen Pig: Peaceful Protest (Paperback)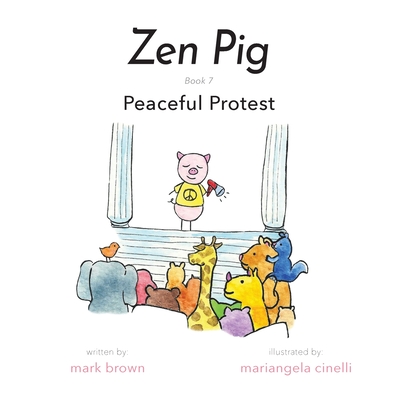 $20.18

Usually Ships in 4-7 Days
Description
---
Discover how to spread kindness and love to those that are treated unfairly
Zen Pig gathers friends and neighbors at the town center to see change. Just because someone does not look the same doesn't mean they deserve to be treated poorly. Different is good and kindness makes us stronger. Our hearts must never become a place in which we allow hate to dwell. With love, each kindness should bring us closer together.
Stand united with those around you by celebrating their differences
To ensure we all stand as equals, we must help some to their feet. Together, we can accomplish so much more than divided. In Zen Pig: Peaceful Protest, kids will learn that when we care for others and help those in need, it ensures that we all rise together so that everyone is treated fairly and with compassion. It's a celebration of diversity, equality, and tolerance.
Choose love above all and watch a masterpiece unfold
Just like pieces to a puzzle, we each have our unique shape. But once we all come together with love and care, a beautiful masterpiece is what we make. Zen Pig helps kids understand that it's okay to be different because when we come together, we are all connected and create one big heart. All are welcome in a community, and that's what makes it so great
Collect other books by Mark Brown
Mark Brown is on a mission to help children reach their full potential by giving them practical lessons of inner peace, gratitude, compassion, acceptance, and happiness. He has helped thousands of children boost confidence, self-esteem, and develop a calming mind with books like Camp Zen Pig, Zen Pig: Where You'll Find Love, Zen Pig: All That Is Needed, Zen Pig: Here To Do, Zen Pig: Feelings Are Clouds, and Zen Pig: The Art of Gratitude.