Sijo Shijo Goshjio: The Beloved Classics of Korean Poetry on Patriotic Loyalty from the Late Goryeo and the Early Joseon Period (1316 1463 (Hardcover)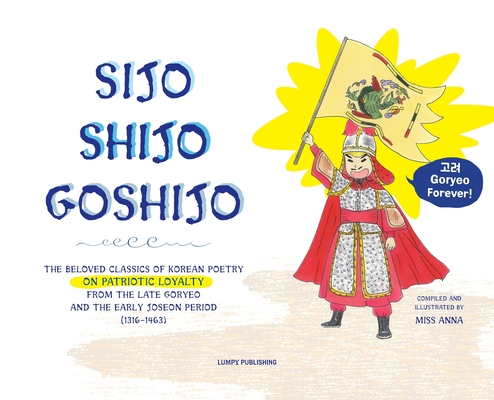 $23.99

Usually Ships in 4-7 Days
Description
---
All Koreans enjoy sijos
as a beloved form of poetry.
But, pray, look beyond the sprinkling of words
to find a treasure trove of history.
Love Korea? You do? Then you HAVE TO dip your foot into the world of sijo Have you heard of it? Pronounced as shijo, it is a form of poetry that has been loved through the generations. If you could believe it, it is almost eight hundred years old, a precious artifact by historical standards However, a sijo can never be encased inside a glass exhibit. Eloquent in its archaic ways, the words still speak out loud and clear, its message still poignant and stirring. Its soft musicality and the beauty of a bygone way of expression still capture the hearts of the Korean people. If you love Korea, do try a taste of sijo, especially the classical ones called the gosijo. Mind you, in all appearances and on first take, the poetry may seem light and airy, but chew on it, and you'll discover layer upon layer of meaning and the thread of emotions running deeper still. Sijos may be short, but they speak volumes with regards to Korean history and the frame of mind of the respected literati of the land.
Miss Anna wrote this book with a singular audience in mind--people all over the world who are aspiring to learn Korean, children included. Hence, she has poured in all her creative energy to make classical sijo, also called goshijo, more accessible to language learners. You will find in this book:
1. Vivid illustrations with captions in Korean and English.
2. A simple pronunciation guide for each word for the everyday English-speaking people (not the McCune-Reischauer transliteration nor the commonly employed Romanization of Korean which are geared more for language experts and the linguists of the land). Note that some sounds cannot be accurately transcribed and taught through a book. Therefore, to get the correct nuance of the Korean letters, please consult a native speaker of Korean.
3. The most accurate sense of words and meaning of the words (and groups of words) in English.
4. Definition of words and groups of words in modern Korean for native speakers of Korean as a way to refresh their understanding of the sijo.
5. The thematic undertone of each poem.
6. Miss Anna's version of the sijo in English. (In all cases, the inherent music and the overall rhythm of a language are forever lost in translation. Hence, she focused on providing the most accurate sense and meaning behind each sijo on behalf of the poets.)
7. A short story behind each poem and the poet. This narrative does much to provide a fuller and a richer understanding of the poem. As the reader gets acquainted with the historical backdrop behind each piece, he/she will perceive its underlying emotions as well.
This book presents twenty classical favorites Placed in chronological order, the poems mark the chaotic end of the Kingdom of Goryeo and bare the turbulent beginnings of the Kingdom of Joseon. Political affairs were the main subject of the early sijo as the poets in the land were all men of high standing. Unquestionably, the poems were heavy-laden with thought as men struggled to live up to the virtues of loyalty and honor and as they struggled to define where their loyalties lay. These poems beautifully captured the deep reflections of men who could not but wrestle through their hour in history. Buy the book and be transported over to the time when loyalty to the king was upheld as the paramount virtue of the land. Discover the poems of great men who had carried themselves with honor during the days of kings and kingdoms. Discover sijo at its heroic best