Zen Pig: Here To Do (Hardcover)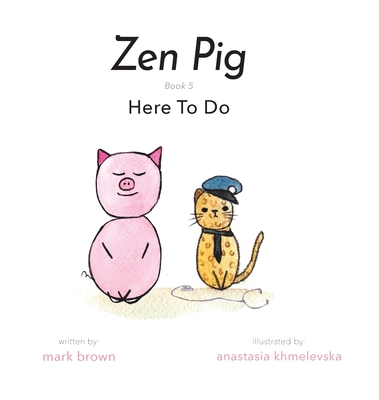 $29.94

Usually Ships in 4-7 Days
Other Books in Series
This is book number 5 in the Zen Pig series.
Description
---
A kids' guide to understanding what makes a beautiful and meaningful life well-lived
It's career day at school and Zen Pig helps friends understand what life is really about. Kids will learn that a job is a vehicle you put yourself into. While choosing a career is important, focus your life even more on who you are. Remember, you are a light and meant to shine like a star so be brave. Learn to trust yourself and your purpose, while sharing love to those you hold dear.
Follow your dreams little one: overcome worry, fear, and stress to become unstoppable
Zen Pig teaches kids to never let a person or thought stop them on their mission in life. You are here to look and listen from within. Know that mistakes and failures are part of the process. No one great came from perfection, so don't be afraid to take action. With Zen Pig by your side to cheer you on, you won't worry too much and realize that you can do hard things.
Shine bright and share a little spot of kindness with others
Keep calm and be happy. Your only real job is allowing your love for yourself and others to be understood. The good can only come from your own caring hands. In Zen Pig: Here To Do, children will be inspired by the beautiful and meaningful lessons Zen Pig shares about living life. Zen Pig helps kids understand that you are more than your career, you are also light and love.
Collect other books by Mark Brown
Mark Brown is on a mission to help children reach their full potential by giving them practical lessons of inner peace, gratitude, compassion, acceptance, and happiness. He has helped thousands of children boost confidence, self-esteem, and develop a calming mind with books like Camp Zen Pig, Zen Pig: Where You'll Find Love, Zen Pig: All That Is Needed, Zen Pig: Peaceful Protest, Zen Pig: Feelings Are Clouds, and Zen Pig: The Art of Gratitude.