Clay's Quilt (Paperback)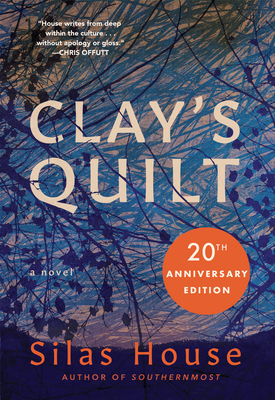 Staff Reviews
---
Oh the joy of going back to the trilogy of the Sizemores. These were written in the early 2000's. This is the second book but they are not in chronilogical order. Clay Sizemore is being raised by his aunt after his mother is murdered. These intertwined families live in the holler amongst quilt making uncles, moonshining cousins, and church going folk. They love, they fight, they live. Clay meets Alma, a fiddle playing whiz, in the local bar. Alma comes with her own family problems. The two fall in love. There is no lack of problems for anyone here. But oh the voices, the strength, the conviction of what is right rings out here in such beauty that yes I cried. Sobbed. These people try their hardest.
— Valerie
Description
---
In his New York Times bestselling debut novel, Silas House introduced himself as an important voice for Appalachia, and indeed, for the entire rural South. In Clay's Quilt, now a touchstone for his many fans, House takes us to Free Creek, Kentucky, where a motherless young man forges his path to adulthood, surrounded by ancient mountains and his blood relatives and adopted kin: his Aunt Easter tied to her faith and foreboding nature; his Uncle Paul, the quilter; the wild girls Evangeline and Alma; and a fiddler whose music calls to Clay's heart. As he struggles to stitch up the void created by his mother's death, Clay pieces together his own life's quilt, all masterfully wrought by House.
Blair brings this novel into a beautiful new paperback edition, along with two other Silas House novels, A Parchment of Leaves and The Coal Tattoo. The three novels, which share a common setting and some characters, are companion novels. They may be read individually, in any order, but collectively, they form a rich tableau of life in rural mountain Kentucky in the last century.
About the Author
---
Silas House is the New York Times bestselling author of six novels, one book of creative nonfiction, and three plays. His writing has appeared frequently in the New York Times and has been published in Time, Newsday, Garden and Gun, Oxford American, and many other places. House is the winner of an E.B. White Award, the Nautilus Award, the Intellectual Freedom Prize from the National Council of Teachers of English, the Storylines Prize from the New York Public Library/NAV Foundation, and many other honors, as well as being long listed for the Carnegie Medal for Excellence in Fiction. He teaches at Berea College and in the Spalding University School of Writing.