Celestial Bodies (Paperback)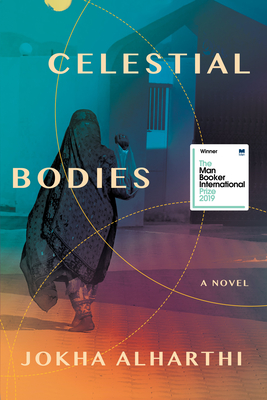 Staff Reviews
---
Winner of the Man Booker International Award 2019, this is the story of a multi-generational Omani family trying to meet the challenges of cultural and social changes that have taken place in the Arab world since the mid-20th century. It centers on three sisters: their marriages, husbands, and extended families. Mayya marries Abdullah in a traditional arranged marriage but names her first daughter London; Asma becomes a doctor, breaks her first marriage contract and eventually marries an artist; Khawla refuses suitors and waits for her childhood friend and cousin, Nasir, to return from living in Canada. There are also parents, grandparents, mistresses, slaves, and neighbors, whose stories reflect the difficulties in the transition from traditional village life. Recommended.
— Alice
October 2019 Indie Next List
---
"In this gripping family saga, author Jokha Alharthi—the first female Omani writer to be translated into English—involves you deeply in the personal drama of her characters and in the extended family system, which includes former servants and masters, while also somehow telling the modern history of the country of Oman. I was immediately enthralled by the power and clarity of Alharthi's book, which won the 2019 Man Booker International Prize and is the first book written in Arabic to win it. Don't miss the opportunity to let this important new book sweep you away!"
— Arlo Klahr, Skylight Books, Los Angeles, CA
Description
---
This winner of the 2019 Man Booker International Prize and national bestseller is "an innovative reimagining of the family saga . . . Celestial Bodies is itself a treasure house: an intricately calibrated chaos of familial orbits and conjunctions, of the gravitational pull of secrets" (The New York Times Book Review).
In the village of al-Awafi in Oman, we encounter three sisters: Mayya, who marries after a heartbreak; Asma, who marries from a sense of duty; and Khawla, who chooses to refuse all offers and await a reunion with the man she loves, who has emigrated to Canada.
These three women and their families, their losses and loves, unspool beautifully against a backdrop of a rapidly changing Oman, a country evolving from a traditional, slave-owning society into its complex present. Through the sisters, we glimpse a society in all its degrees, from the very poorest of the local slave families to those making money through the advent of new wealth.
The first novel originally written in Arabic to ever win the Man Booker International Prize, and the first book by a female Omani author to be translated into English, Celestial Bodies marks the arrival in the United States of a major international writer.
About the Author
---
Jokha Alharthi is the first Omani woman to have a novel translated into English, and Celestial Bodies is the first book translated from the Arabic to win the Man Booker International Prize. Alharthi is the author of two previous collections of short fiction, a children's book, and three novels in Arabic. Fluent in English, she completed a PhD in classical Arabic poetry in Edinburgh and teaches at Sultan Qaboos University in Muscat. She has been short-listed for the Sheikh Zayed Award for Young Authors and her short stories have been published in English, German, Italian, Korean, and Serbian.