Girl Gone Missing (Paperback)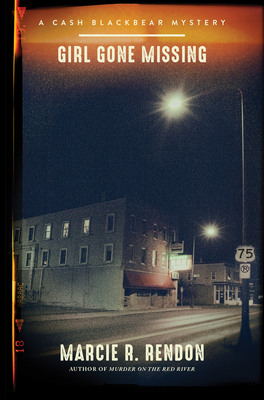 Description
---
2020 McKnight Distinguished Artist award, Marcie Rendon
Nothing in Renee Blackbear's world had prepared her for college or for the hurt that happens in the Twin Cities.
Most people call Renee Blackbear--the nineteen-year-old Anishinabe woman--Cash. Why? Because she drives trucks for cash. She plays pool for cash. She pays with cash. Now she's in college, thanks to Sheriff Wheaton, the guy who pulled her from her mother's wrecked car when she was three. Cash has navigated through foster homes and, at 13, was working farms, driving truck.
Turns out she's smart, real smart, but she's a duck out of water at Moorhead State. Her classmates and professors talk mostly about nothing, not like the working men she's known all her life who talk dirt and fertilizer, weather and prices on the Grain Exchange. Then Cash hears about a blonde girl in her English class gone missing. And then another. She begins to dream blonde girls calling for help. They're in Minneapolis. She's never been far from the Red River. She's never heard of White Slavery. And, then, suddenly she's locked inside a room with the lost girls. She needs to find a way out.
About the Author
---
Marcie Rendon is a citizen of the White Earth Nation. In 2020, she became the first Native American woman to receive the McKnight Distinguished Artist award. Her novel, Girl Gone Missing, Cinco Puntos Press, is the second in the Cash Blackbear series. The first, Murder on the Red River (2017 Cinco Puntos Press) won the Pinckley Women's Debut Crime Novel Award, 2018. It was a Western Writers of America Spur Award Finalist 2018 in the Contemporary Novel category. Two nonfiction children's books are Pow Wow Summer (MN Historical Press) and Farmer's Market: Families Working Together (CarolRhoda). Rendon was recognized as a 50 over 50 Change-maker by MN AARP and POLLEN, 2018. With four published plays she is the creative mind of Raving Native Theater. She curates community created performance such as Art Is...CreativeNativeResilience which features three Anishinabe performance artists on TPT Public Television, June 2019. Diego Vazquez and Rendon received the Loft's 2017 Spoken Word Immersion Fellowship for their work with women incarcerated in county jails.Rendon was featured in Oprah Magazine's 31 Native American Authors to Read Right Now: Rendon's Cash Blackbear series are gripping vehicles that tell broader stories about the historical persecution of American Indians.