Nola The Nurse(R) & Bax Join The Protest (Paperback)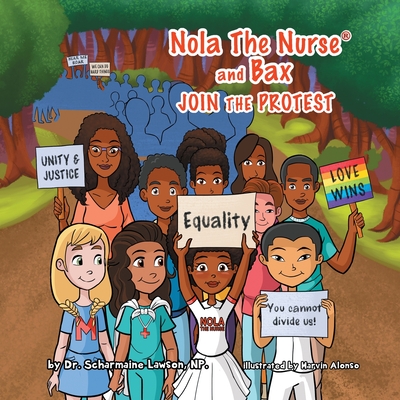 $16.19

Usually Ships in 4-7 Days
Description
---
Discover an empowering story that inspires children to stand together and let their voices be heard
Combining a heartfelt message about the power of protests and the importance of standing in solidarity as a community, this beautifully illustrated children's story explores powerful themes about love, peace, and protesting against hate.
Through relatable characters and an empowering narrative, Nola the Nurse(R) and Bax Join The Protest inspires kids ages 6-10 by teaching them about the importance of their voices and how they can stand up and fight for change - no matter their race or background.
Written with a fun and simple story that helps children understand complex issues in a straightforward way, kids will love following best friends Nola and Bax as they learn how they can become allies and stand with their friends and family against hatred, violence, and discrimination.
Book details:
- Features loveable diverse characters and a memorable story that explores an important message
- Ideal for both boys and girls ages 6-10
- Includes valuable moral lessons about community, love, speaking the truth, and standing up to hate
- Makes a brilliant teaching tool for parents who want to educate their children about police violence
- And much more
So if you're a parent or educator looking to spark valuable conversations about race, protests, and police in America, then Nola The Nurse(R) and Bax Join The Protest is a deeply engaging story that will help you inspire your children with the power of love and solidarity.
Are you ready to inspire your child to stand up and let their voice be heard? Then scroll up and grab your copy now