Music of the Butterfly: A Story of Hope (Hardcover)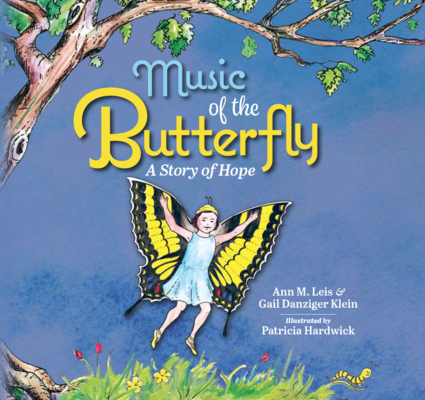 Description
---
Based on a true story, authors Ann M. Leis and Gail Danziger Klein recount Gail's mother's experiences during a tragic time in history--the Holocaust. Inspired by a family photograph, Ann and Gail tell a story not only of hope, but of the strength and courage it took to overcome immense hardship.
Little Renee, a vibrant eight-year-old Jewish girl living in Hungary, takes readers on a journey through history--from her days of dancing and singing with butterflies near her cozy home, to the wake and reign of Adolf Hitler. Renee uses her imagination and love of music while confined to the ghetto, and eventually Auschwitz concentration camp, to distract her from the surrounding atrocities.
Music of the Butterfly: A Story of Hope
allows children to view life through Renee's eyes--a child living through the Holocaust who remained hopeful of a brighter future. Although life can be unfair, this book teaches children the importance of never losing hope even when faced with bullies and immense obstacles. The colorful illustrations guide readers through the metamorphosis of a butterfly as they are simultaneously led through Renee's challenging yet triumphant journey. Young readers will learn the importance of keeping hope alive, standing up for what is right, and the knowledge that tomorrow can bring a better day.
About the Author
---
Ann M. Leis is a freelance writer and registered nurse. She has served as associate editor and has written many articles for Doll News, an international journal published by the United Federation of Doll Clubs. Ann volunteers for children's charities and is on the advisory board of Holocaust Museum Houston. She is married with three children. Her eldest daughter, Nina, is married to co-author Gail's son, Stephen, which is how Ann and Gail met and became friends. Ann lives in Houston, Texas. Gail Danziger Klein is Renee's oldest daughter. She was a high school French teacher, a docent at the Museum of Fine Arts, Houston, co-chairwoman of the Jewish Community Center Book Fair, and has served on numerous community boards. A founding member of Holocaust Museum Houston, Gail has held many positions with the organization since 1989 and served as Museum Chairperson in 2015-2016. She is married with two sons. Patricia Hardwick is Ann's sister and Gail's friend. She is a classroom teacher and has enriched the lives of 3rd through 6th-grade students for 34 years. She was honored with the Teacher of the Year Award at Zilker Elementary School in Austin, Texas, in 2006. Patricia has always loved to draw and paint and she has a loyal following for her Christmas card creations. She lives with her husband in Austin, Texas.