Read Dangerously: The Subversive Power of Literature in Troubled Times (Compact Disc)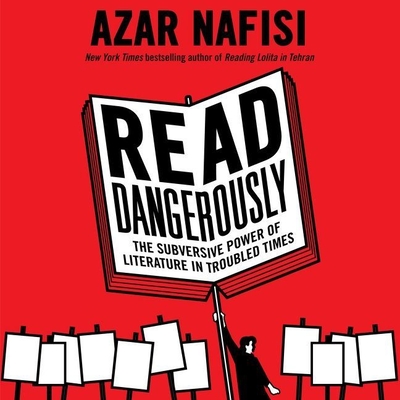 $34.99

Usually Ships in 4-7 Days
Staff Reviews
---
An Iranian-American, who lived through the Islamic Revolution in Iran, Nafisi writes with passion about the role of literature in the lives of writers and readers. Because of her personal experiences in Iran, she is particularly attuned to a society's need to balance its responses and reactions to authoritarian political tendencies with questions and attempts through the written word to minimize unreasonable controls. Writing essays in the form of letters to her dead father, she cites examples from Plato and Socrates to Salman Rushdie, Ray Bradbury, Margaret Atwood, Zora Neal Hurston, James Baldwin, David Grossman and others to illustrate the ways literature uses imagination to reveal the truth and to make people understand that the world is not just black and white. As she did in Reading Lolita in Tehran, she provides both literary analysis of and inspiring insights from the works she discusses. Possibly the most memorable quotation comes from Zora Neale Hurston: "No, I don't weep for the world. I am too busy sharpening my oyster knife."
— Alice
Description
---
The New York Times bestselling author of Reading Lolita in Tehran returns with a guide to the power of literature in turbulent times, arming readers with a resistance reading list, ranging from James Baldwin to Zora Neale Hurston to Margaret Atwood.
A] stunning look at the power of reading. ... Provokes and inspires at every turn. --Publishers Weekly (starred review)
What is the role of literature in an era when one political party wages continual war on writers and the press? What is the connection between political strife in our daily lives, and the way we meet our enemies on the page in fiction? How can literature, through its free exchange, affect politics?
In this galvanizing guide to literature as resistance, Nafisi seeks to answer these questions. Drawing on her experiences as a woman and voracious reader living in the Islamic Republic of Iran, her life as an immigrant in the United States, and her role as literature professor in both countries, she crafts an argument for why, in a genuine democracy, we must engage with the enemy, and how literature can be a vehicle for doing so.
Structured as a series of letters to her father, who taught her as a child about how literature can rescue us in times of trauma, Nafisi explores the most probing questions of our time through the works of Toni Morrison, Salman Rushdie, James Baldwin, Margaret Atwood, and more.
Supplemental enhancement PDF accompanies the audiobook.