The Secret Lives of Country Gentlemen (The Doomsday Books) (Paperback)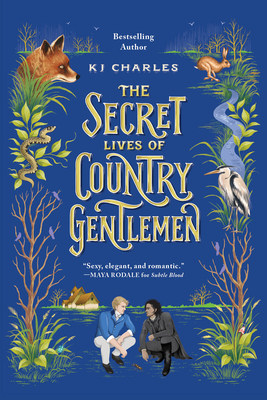 Staff Reviews
---
Gareth's father abandoned him after his mother died and his unkind uncle raises him to adulthood. When Gareth's father dies, he learns that he's now Sir Gareth, a baron with a stately house on Romney Marsh, a remote area known for smuggling. Soon after arriving home, Gareth runs across Joss, a charming man he'd had a relationship with back in London. Turns out Joss runs the family smuggling business and Gareth's father was involved in a conspiracy that proves dangerous for all involved. Gareth and Joss must cooperate to untangle the schemes and save both families from further harm. An utter joy to read! 
— Cathy
Description
---
Gothic scandal meets Bridgerton intrigue in this swashbuckling Regency romance from celebrated author KJ Charles.
Abandoned by his father, Gareth Inglis grew up lonely, prickly, and well-used to disappointment. Still, he longs for a connection. When he meets a charming stranger, he falls head over heels—until everything goes wrong and he's left alone again. Then Gareth's father dies, turning the shabby London clerk into Sir Gareth, with a grand house on the remote Romney Marsh and a family he doesn't know.
The Marsh is another world, a strange, empty place notorious for its ruthless gangs of smugglers. And one of them is dangerously familiar…
Joss Doomsday has run the Doomsday smuggling clan since he was a boy. When the new baronet—his old lover—agrees to testify against Joss's sister, Joss acts fast to stop him. Their reunion is anything but happy, yet after the dust settles, neither can stay away. Soon, all Joss and Gareth want is the chance to be together. But the bleak, bare Marsh holds deadly secrets. And when Gareth finds himself threatened from every side, the gentleman and the smuggler must trust one another not just with their hearts, but with their lives.
Readers Rave about KJ Charles:
"KJ Charles is one of the best romance novelists writing today. Historical romance at its finest." —Sarah MacLean, New York Times bestselling author
"Once again KJ Charles has produced an absolute masterpiece!" —Joanna Shupe, USA Today bestselling author
"A romantic, swashbuckling tale from start to finish."—Manda Collins, Bestselling Author of A Lady's Guide to Mischief and Mayhem
About the Author
---
KJ Charles spent twenty years as an editor in British publishing before fleeing the scene to become a full-time historical romance novelist. She has written over twenty-five novels since then and her books have been translated into eight languages. She lives in London.
Praise For…
---
"As always, Charles combines masterful prose, thrilling romance, fantastic wit, and gripping stakes. Her characters feel as real and relatable as a bruise. She is, in my opinion, a titan of her genre." — Talia Hibbert, New York Times and USA Today bestselling author

"KJ Charles weaves romance, intrigue, and history into one deliciously compelling read." — Megan Frampton, author of Four Weeks of Scandal

"Once again KJ Charles has produced an absolute masterpiece! Joss and Gareth's cross-class, emotional struggle will have you rooting for them on every page. Charles is one of the best writers in the game, and her books never disappoint!" — Joanna Shupe, USA Today bestselling author

"Dangerous smuggler meets rule-abiding baronet in this gorgeously written novel brimming with romance, wit, emotion and mystery." — Maya Rodale, USA Today bestselling author

"The Secret Lives of Country Gentlemen is equal parts a tender romance and a riveting story of smuggling and adventure. [A] joy to read from start to finish." — Martha Waters, author of To Have and to Hoax

"With sparkling prose, evocative descriptions of its coastal locale, and unforgettable characters, The Secret Lives of Country Gentlemen is a romantic, swashbuckling tale from start to finish. K. J. Charles is not to be missed by any reader who loves Regency Romance." — Manda Collins, Bestselling Author of A Lady's Guide to Mischief and Mayhem

"All I want from 2023 is romantic adventure and KJ Charles is delivering! The Secret Lives of Country Gentlemen has it all: Smuggling! Blackmail! Secret rendezvous! Scoundrels! Sweethearts! Big feelings! KJ Charles is one of the best romance novelists writing today and The Secret Lives of Country Gentlemen is proof. Historical romance at its finest." — Sarah MacLean, New York Times Bestseller

"A delightful new Regency romance." — Library Journal, Starred Review

"A dark and stunning love story...Readers will devour this." — Publishers Weekly, Starred Review

"Fans of Charles' Society of Gentlemen series and new readers alike will adore this complex and emotional historical romance." — BookPage, Starred Review